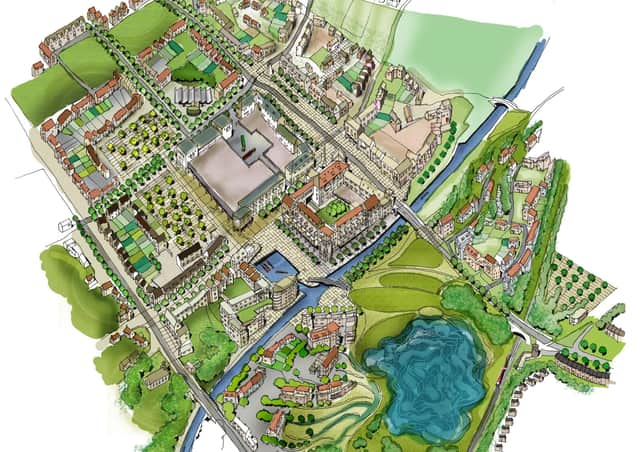 An artist's impression of the Winchburgh redevelopment.
West Lothian Housing Partnership (WLHP) has started construction on 20 new homes for social rent in the latest phase of the £1 billion transformation of Winchburgh.
The homes are part of the redevelopment of Winchburgh which will see the village transformed over the next 15 years, with hundreds more new homes, new schools and improved transport links, as well as leisure facilities and amenities. The 20 new homes should be ready by the end of 2022.
Meanwhile, WLHP has also started building 14 affordable homes in Blackness Road, Linlithgow, at the site of CALA Homes' Queenswood development.
The homes will help meet the very high demand for affordable homes in Linlithgow.
The development – made up of eight homes for social rent and six for mid-market rent – is also expected to be ready by the end of 2022.
John M Hill, chairman of WLHP, said: "These new homes on two sites will help meet the high demand for affordable housing across West Lothian.
"We're delighted to be working with our partners, including West Lothian Council and the Scottish Government, in building homes and communities people are proud to live in."
George Paul, West Lothian Council's executive councillor for services for the community, added: "The council is committed to working alongside partners such as WLHP and Wheatley to support the delivery of new, high-quality affordable homes across West Lothian. These new developments from WLHP are a welcome boost to social housing in West Lothian and to the communities in which they are situated."
WLHP's £2.8m development in Winchburgh – made up of eight flats and 12 houses – is part-funded by a Scottish Government grant of £1.6m and is being built by Barratt Homes.
Alison Condie, managing director of Barratt Homes East Scotland said: "We are incredibly proud to be working in partnership with WLHP at Caisteal Gardens, Winchburgh, helping with the delivery of much needed affordable housing in the region. These high-quality homes will be enhanced further by improved transport links, employment opportunities, and new outdoor spaces in the historic village."
The £1.9m development in Linlithgow is being built with the help of Scottish Government grant of £0.9m and the contractor there is CALA Homes.
Alasdair Hughes, land manager with CALA Homes (East), said: "We're thrilled to be delivering a range of affordable homes that will blend seamlessly into our Queenswood development in Linlithgow. These mixed tenure homes will have access to electric vehicle charging infrastructure and be built with the latest materials to reduce energy usage."
WLHP has also announced plans for another 85 affordable homes to be built in Winchburgh.