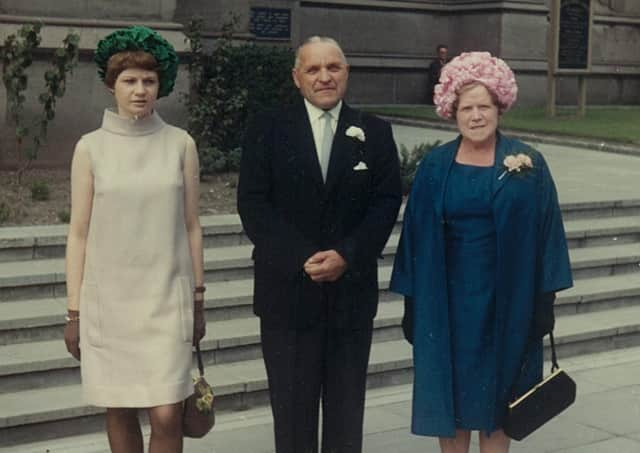 Moira, then aged around 17 or 18, with her mum and dad James and Christina Murray at a wedding in Dundee.
Hamish Marshall's wife Moira passed away peacefully at home in Fochabers in 2017 after fighting ovarian cancer for almost two years.
Now he hopes to complete a "jigsaw" of information about her early life, and hopes somebody in the Falkirk area may hold a clue.
"Moira was adopted when she was a baby, weeks old, by James and Christina Murray who resided in Dundee", he says,
"She was born in Dundee on the May 13, 1949 at Clement Park, and her natural mother was a Kathleen Ruby Thorp or McFarlane - who at some point up until Moira's birth resided at 24 Boyd Street Laurieston.
"Kathleen's husband was John Alexander McFarlane .They married at Brixton, London, in 1945.
"Moira always wanted to research her real parents, and in 2015 she did so - and I have all documents related to her birth and adoption".
But he says the final piece of her missing early life may yet be waiting to be found in Laurieston, and he asks any of her remaining relatives if they can get in touch via the Falkirk Herald.