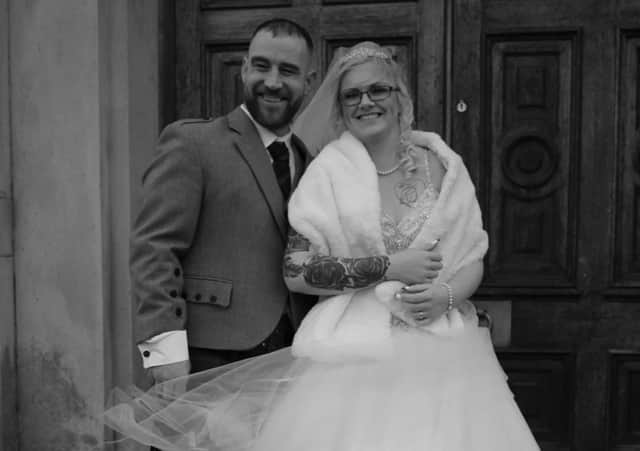 Melanie Woodward and Daniel Pollock were married on February 14, 2020.
HOW THEY MET: The newly weds met through a friend.
THE PROPOSAL: Daniel popped the question on February 14, 2019 after a nice meal and fizz together. Melissa said: "It was lovely."
THE WEDDING: The couple were married on February 14, 2020 at Falkirk Registry Office. They then went to Callendar Park for their photos before enjoying a reception at Camelon Labour Club. They were joined by 40 guests during the day and an extra 30 at night.
THE WEDDING PARTY: Melissa's maid of honour was Jeanette Southall. Daniel's best men were Jordon Gray and Steven Potter. Daughter Charli Wilson was their flower girl and son Taylor Watson was the junior groomsman.
THE HONEYMOON: Melissa and Daniel have not yet had a honeymoon as they found out just before Christmas that Melissa was pregnant. They plan to wait until August when their baby girl is born for their honeymoon.
THANKS: The couple would especially like to thank Jeanette, Daniel's step mum and Melissa's maid of honour, who did a lot for them throughout the planning. Melissa would also like to thank her gran Christa Hind for giving her away. Her grandad passed in January and she stepped in. The couple would also like to thank everyone who made the effort to spend the day with them.