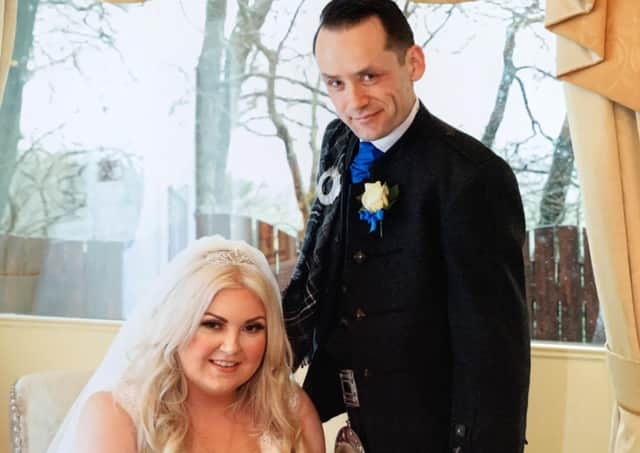 Kimberley McRae and Cymon Tipple were married on February 15, 2020.
Kimberley McRae (29) is an accounts assistant at Arnold Clark while Cymon Tipple (41) is a factory operative at Mrs Tilly's. The couple live in Carronshore.
HOW THEY MET: The couple met at Behind The Wall. Kimberley was at a leaving night for a colleague and Cymon was the barman. They spoke all night, exchanged numbers and had their first date the next day, although she was slightly hungover.
THE PROPOSAL: Cymon took Kimberley out for an Italian meal and cocktails for her birthday where he was going to propose. However he got cold feet. They nipped into their local pub for a drink on the way home. Kimberley went to the toilet and heard their song come on the juke box. When she came out the toilet Cymon was on one knee.
THE WEDDING: The couple were married on February 15, 2020 – six years to the date from when they first met – at The Three Kings in Shieldhill with 100 guests during the day and a further 50 at night.
THE WEDDING PARTY: Kimberley's maid of honour was Cheralyn McRae and her bridesmaids were Alana Tocher and Mia Tocher. Andy Cole was Cymon's bestman while Archie Tipple and Marley Tipple were ushers.
THE HONEYMOON: They flew to Lanzarote for ten days.
THANKS: The couple would like to thank all of their friends and family who helped make their day special and all their suppliers, especially The Three Kings who were amazing from start to finish.