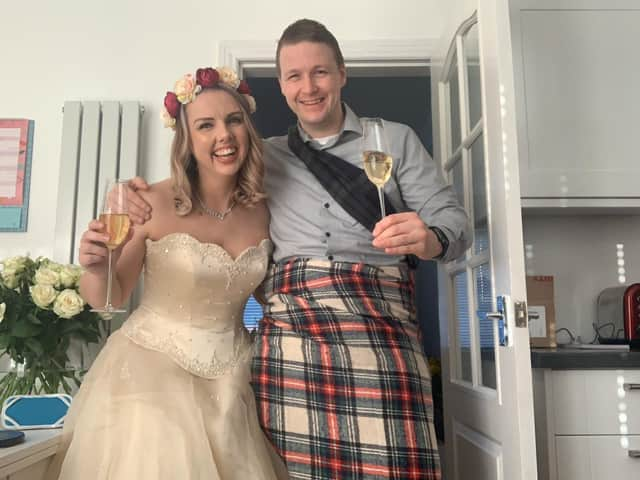 Hanna Campbell and Gary Cherrie should have been getting married on April 18, 2020.
Family and friends of a couple who should have been tying the knot on Saturday, came together virtually to make sure they had a day to remember despite not walking down the aisle.
Hanna Campbell and Gary Cherrie, from Grangemouth, had planned to get married at the Burgh Halls in Linlithgow on April 18.
Sadly the current pandemic put paid to their plans and they have been forced to reschedule their big day until November.
Family and friends joined Hanna Campbell and Gary Cherrie on Zoom for the celebrations
However, the bride and groom to be's families and their bridal party didn't want the day to pass by without being marked in some way.
Hanna's sister, Lynsey said: "Not only was April 18, 2020 meant to be their wedding day, it was the 12th anniversary of the day they met.
"The day was organised by the families and bridal party.
"We organised a few surprises for them.
"It started with a hamper being delivered to their door containing their wedding menu.
"As well as the food, the hamper included the details of Mr and Mrs which was to be hosted on Zoom later."
Among the goodies in the hamper was the ingredients of their wedding meal including soup and steak pie and champagne to celebrate.
Lynsey said: "A socially distant scramble was enjoyed by the flower girl and page boy, and I secretly left my 14-year-old wedding dress so that 
Hanna could wear a wedding dress on her original date.
"Gary improvised making a kilt out of a tartan blanket and the guests dressed for the occasion."
Nine households joined Hanna and Gary, who are both 32, for the virtual conference and quiz.
Among them were the couple's parents, siblings and members of the wedding party.
The Mr and Mrs quiz was based on the same concept as the popular television game show of the same name.
Gary and Hanna, who both work for Aegon, were asked questions about themselves and had to secretly text their answers to the host.
They were then asked questions about each other to see if they could give the same correct answer their partner had given.
Lynsey continued: "The game started at 7pm with the couple being piped in by our uncle from his living room.
"Hanna faired better than Gary in the quiz, so he has seven more months to get to know her better.
"My dad then did a father of the bride speech – he needs the practice!
"Following the quiz, their wedding band went live on Facebook and they were able to enjoy their first dance.
"The happy couple then partied all night and took delivery via taxi of a care package which included a hangover kit.
"It was an amazing day and in Hanna's words, 'short of not getting my wedding day it was the best day ever'."