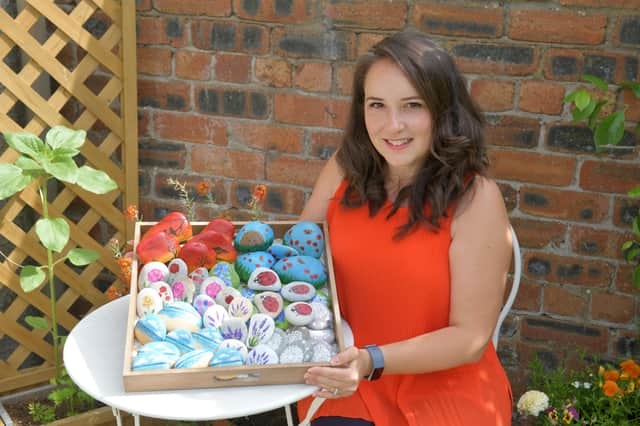 Lisa Doran has started painting Comfort Stones for patients at FVRH and is asking people to help out. Pic: Michael Gillen.
A Camelon woman who started painting during lockdown for her own well-being is using her new found skills to give something back to patients at the local hospital.
Lisa Doran has set up a new volunteer project, Forth Valley Comfort Stones, to create hand-decorated pebbles for those in Forth Valley Royal Hospital who are separated from their loved ones.
On one side the pebble features a picture created by a volunteer and on the other nursing staff will write a personal message from a patient's family member so they can keep it with them while they are separated due to the pandemic restrictions.
Lisa, a pastoral teacher at St Mungo's High School, said: "I had started painting at the start of lockdown for my well-being and I came across a group painting pebbles and giving them to Covid-19 patients in hospital.
"They would paint a design on one side and there was a message from family on the other.
"It was a way of helping people feel connected to those they can't see at the moment.
"No-one in Scotland was taking part in the group, so I thought I would do it for Forth Valley hospital.
"I made a connection with one of the nurses and took some along for her to see.
"Initially it was set up for Covid-19 patients but the demand in our local hospital means they would like as many as 500 this summer and they want to roll it out for other patients too.
"When I started I was doing them myself as a wee hobby a couple of nights a week but when the hospital said they'd like 500 I set up a Twitter account and a Facebook group to invite others to get involved and help out.
Lisa explained: "I have tried to create basic guidelines of what to do and what materials are needed for people to paint the stones themselves.
"I'd love others to get involved, however much time they can give.
"I have been taking a box of stones along to the hospital each week and I'm hoping it will be an ongoing thing as it's good for people's well-being while they are in hospital.
"By holding the stone in their hand it can help them feel closer to their loved one when they are not there."
And anyone intersted in painting the stones is urged to be as creative as they want with their designs.
"At the moment I have been doing designs with poppies, butterflies, ladybirds, sunsets and beaches," Lisa continued, "but there's no set rules. People can choose to paint or draw whatever they want on them.
"I try to think of things that would make me smile and take inspiration from them."
In a bid to stop the nursing team at the hospital from being overwhelmed, Lisa is co-ordinating delivery of the comfort stones.
She said: "People should get in touch and I will organise local collections of their stones and then arrange for them to be dropped off at the hospital in bulk."
A fundraising page has also been set up by Lisa for people to donate to if they want to help but are perhaps not artistic themselves. Any money raised will be used to purchase more materials.
To get involved or to find out more search Forth Valley Comfort Stones on Facebook or FVComfortStone on Twitter.