Virtual Linlithgow Marches set to take place
This year's Riding of Linlithgow Marches, again moved online due to the coronavirus pandemic, will take place on Tuesday.
Wednesday, 9th June 2021, 6:00 am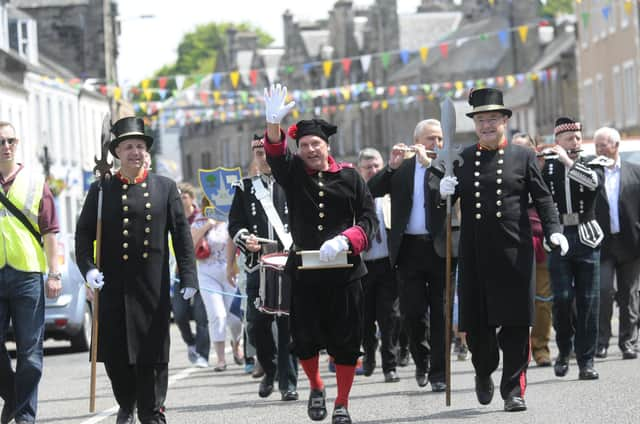 Crying of the Marches, 2015, Linlithgow, High Street, West Lothian, Pic by Alan Murray.
In February it was announced event has again been cancelled by Covid-19 this year, with organisers forced to plan an online celebration again, as happened last year.
Stephanie Thomson from the Deacons Court explained how the event is marching on.
She said: "All of our Virtual Marches videos will be uploaded to our Facebook page and YouTube channel at the relevant times:
"The first Deacons Night video was shown on Saturday, June 5 and the Second Virtual Deacons Night will be shown this Saturday (June 12) at 6.30pm.
"The Crying of the Marches will be shown on Friday (June 11) at 1pm.
"A full timetable has been organised for the Marches Day videos which will be shown on Tuesday (June 15)."
The timetable for Tuesday's virtual events is as follows: 5am – Start the day off with the flutes and drums and a message from Provost Cunningham and other well-known Marches faces.
6am - The Town Piper and Drummer. 7am - The Reed Band will play the 23rd Psalm during a time for reflection before the Reed Band head of to "March of the Cameron Men".
8am - Virtual Marches Day breakfast and Marches message from the Provost.
10.15am - The Provost and My Lord Deacon of the Dyers are at the Palace for the Fraternisation.
11am - Marches messages and memories from organisations and individuals as well as sharing designs of floats and decorated bicycles and revealing the winner of the Best of the Best Competition.
1pm - Find out the winners of the Design a Shield Competition as well as the Winner of the float, costumes and decorated Bike entries.
2pm - From the eastern boundary in Blackness, respects will be paid at the War Memorial before the Baron Bailie's report from Castle Hill. 3pm - Toast to the Royal Burgh. 4pm- Vote of Thanks.
5pm - The traditional three times around the Cross Well before Provost Cunningham gives his closing remarks.