Three young Falkirk district performers to take to SEC Armadillo stage for Movies to Musicals
Three Falkirk district youngsters are set to star in Scotland's biggest musical theatre show – Movies to Musicals – next year.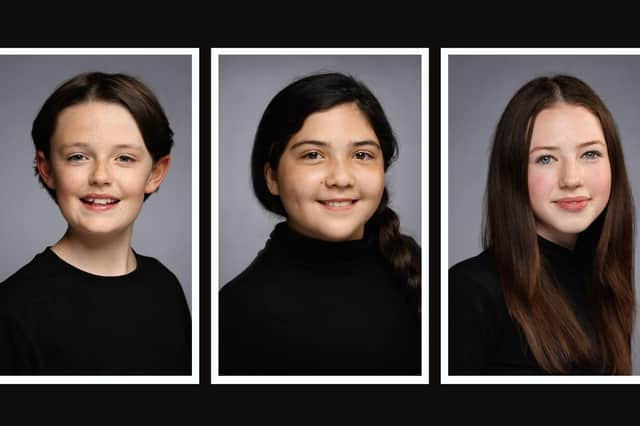 Alasdair Honeyford, 12 and Caoimhe Clough, 14, both from Bo'ness; and Jesca Hardy-Smith, 10, from Falkirk are among the young performers who will take to the stage at Glasgow's SEC Armadillo in February as the musicals extravaganza celebrates its tenth birthday.
They will be entertaining the audience alongside stars including Scots singer Sabrina Carter, Kerry Ellis, Lucy Kay, Paul Tabone and John Owen-Jones. Glasgow's Rock Choir will also be performing.
Movies to Musicals, run by charity Glasgow Philharmonia, showcases some of stage and screen's most beloved soundtracks and has garnered immense popularity over the past ten years.
In the tenth anniversary edition, theatre lovers will be treated to hits from musicals such as Bugsy Malone, Mary Poppins, Miss Saigon, Six and Les Miserables.
Some of Scotland's most promising young talent will be performing as part of the show, with 70 youngsters from across Scotland taking to the stage, including the local trio.
Over the past 10 years, Glasgow Philharmonia have given thousands of local children access to free and low cost classes, culminating in shows such as Movies to Musicals at some of the country's best venues.
Ross Gunning, producer of Movies to Musicals said: "Many of the young people who come to us struggle with confidence, and we're really proud of the fact we provide a safe and open space for everyone to just be themselves.
"And seeing the growth in some of these kids, watching them become triple-threat dancers, singers and actors, is what keeps me doing this. It's hard, especially trying to find funding, but I absolutely love it.
"It's crazy we're celebrating 10 years – it has gone by so quickly. I'm really proud of what we have achieved. No-one else does what we do - we are the company putting Scotland at the forefront of musical theatre."
Movies to Musicals is on at the SEC Armadillo on February 17, 2024 with tickets available here.