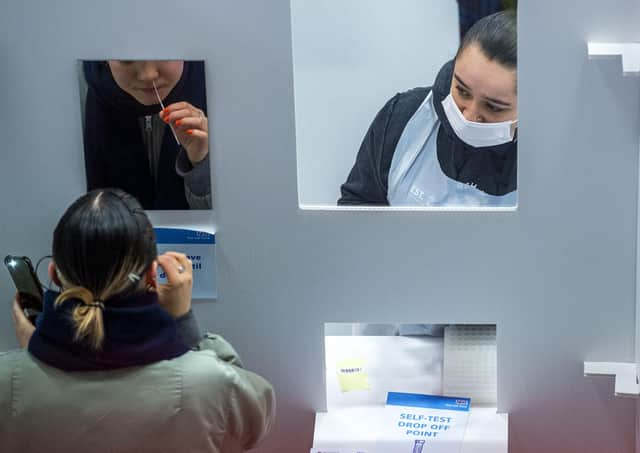 STOCK PIC LISA FERGUSON.
Its deployment is in response to an increased number of positive tests for Covid-19 in the Bo'ness area. The latest seven day figures from Public Health Scotland, for December 28- January 3, show that the Bo'ness Douglas neighbourhood recorded 21 coronavirus positive test results, giving it the highest available Scottish per 100,000 rate of 400 plus. The area recorded less than three cases the previous week, December 21-27.
Bo'ness Newtown and Blackness, Bo'ness - Carriden and Grahamsdyke were in the next category for the latest seven day period, recording 200-399 cases per 100,000.
The new test centre will be located at Bo'ness Recreation Centre, Gauze Road, Bo'ness EH51 9QB.
Anyone who lives or works in Bo'ness can make an appointment via the GOV.UK website, click here, or by calling 0300 303 2713. Residents do not have to be displaying symptoms of Covid-19 to make an appointment (but should select the option 'My local council or health protection team has asked me to get a test, even though I do not have symptoms' when booking a test).
Appointments will only be released each evening for the following morning and in the morning for appointments that afternoon.
People are asked not to turn up at the testing centre without booking an appointment in advance. Anyone attending should also wear a face mask or covering and observe the rules on physical distancing by staying at least two metres apart.
Councillor Cecil Meiklejohn, leader of Falkirk Council, said: "It is concerning to see a particular spike in positive cases in Bo'ness and deploying the temporary test centre can help the NHS to identify cases and prevent the spread of the virus further.
"We would urge anyone in the town to make an appointment as soon as possible and to get checked out - the test does not take long, and results can be expected in a matter of days.
"We're all working together to try and prevent the spread of this virus and testing is a really important part of this approach."
Dr Graham Foster, director of Public Health, NHS Forth Valley, said: "We have seen a sharp increase in the number of positive cases in the Bo'ness area over the festive period and evidence of spread within the local community.
"I would therefore encourage local people to get tested even if they currently feel well as some people can have Covid-19 without displaying any of the common symptoms."