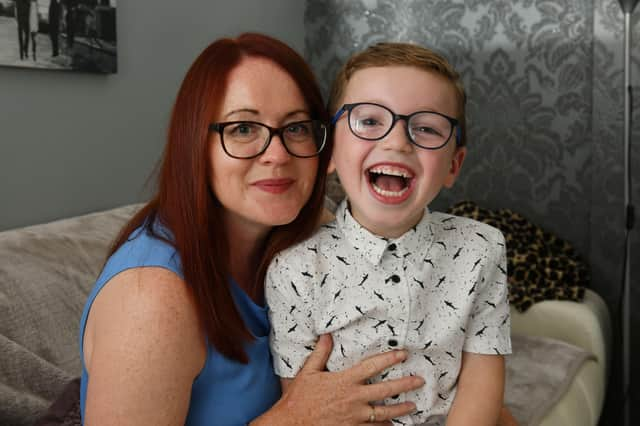 Natalie Tait and son Aydan Tait-Crossan (pictured) walked a million steps along with friends Michelle Cairney and daughter Beth. Pic: Michael Gillen.
Natalie Tait and Michelle Cairney wanted to give something back to the staff at the mother and baby unit (MBU) at St John's Hospital to say thank you after they both spent time there in 2015 following the birth of their children.
The friends challenged themselves to walk one million steps between July 6 and August 31 to raise cash for the unit, which provides specialist care for those mothers experiencing mental health issues and allows them to receive in-patient treatment alongside bonding with their babies.
Natalie, from Bonnybridge, said: "We were in patients in January 2015 and we have been friends ever since.
They took on hills and even a mountain in a bid to get their steps. Pic: Michael Gillen.
"Our kids have grown up together and see each other regularly.
"We wanted to do something to help the unit out and as a thank you for their support, giving something back.
"So we decided to set ourselves the challenge."
On their fundraising page, the pair wrote: "The work the team do at St John's MBU is absolutely invaluable.
"The staff are compassionate and caring, but most of all extremely supportive.
"We will never be able to repay them for care they provided us during our time with them (in 2015)."
As well as each other's company, Natalie and Michelle also did a lot of their walking with the company of their children.
Natalie added: "My son Aydan and Michelle's daughter Beth have both been out walking with us.
"They get on so well having grown up together.
"Aydan has been doing hills with me and in July we climbed Schiehallion.
"He enjoyed it and I'm so proud of him for doing it.
"Both Aydan and Beth have been great at walking to help us complete our challenge."
The friends' JustGiving page has seen them raise £710 for the hospital unit, which is one of just two such services in Scotland.
To show your support to Natalie and Michelle visit their justgiving page here