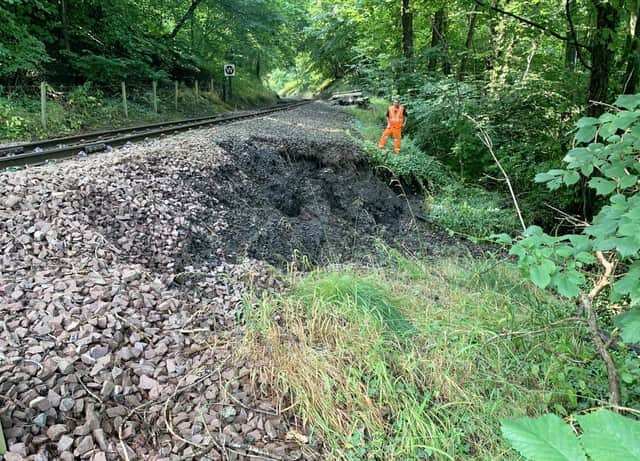 Landslides affecting a stretch of the Bo'ness and Kinneil Railway line are estimated to cost around £100,000 to repair. (Pic: SRPS)
The Scottish Railway Preservation Society (SRPS), which runs the popular heritage railway, launched an emergency fundraising appeal last Friday in a bid to raise £100,000 to help repair a number of landslides on the track after the torrential rain and thunderstorms on Wednesday, August 12.
A mile-stretch of the railway line experienced significant damage causing it to be closed to all trains.
The news was a huge blow to the SRPS who were preparing to re-open to the public in September having been closed for all of the season so far this year due to the Covid-19 pandemic.
The timing of the damage could not have been worse for the society who say their income is an all time low due to the long period of closure, hence the decision was taken to launch an emergency fundraising appeal.
Those behind it hoped members of the public would show their support for the attraction, and they have done just that by raising almost £83,000 of the total within a week of the fundraising page going live.
On the fundraising page, the SRPS said: "The worst of the landslips has occurred on a steep embankment near 'High Bridge'.
"A geo-structural engineer has inspected the site and we have since estimated that this damage may cost £100,000 to repair.
"The significant damage to our railway line could not have come at worse time: we had planned a limited reopening of the Railway in mid-September, after a lengthy closure due to the #Coronavirus pandemic that has left our income at a record low.
"Until the embankment is repaired, we cannot operate any trains meaning that we cannot generate any income.
"Once again, we are reaching out to our generous supporters: we need your help to raise £100,000 to fix the storm damage on the Railway.
"Any donation, large or small, will help secure the future of our Railway.
"2020 seems to be the year that keeps on giving. But we will rise to this new challenge but we need your help, too."
Prior to the recent thunderstorms, SRPS had hoped a limited train service could have been reintroduced in mid September, but this week's extreme weather means this is now unlikely.
However depending on the successful repair of the landslides and developments with the pandemic guidance the SRPS hopes it may be able to operate a train service later in 2020.