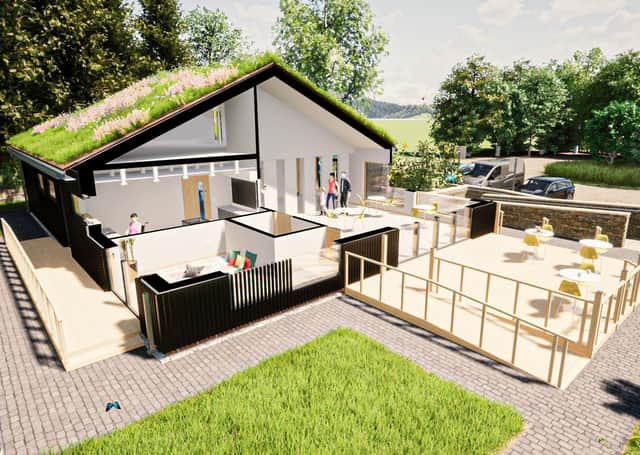 Students from Edinburgh Napier and the City of Glasgow college have linked up to design a new visitor hub for Beecraigs Country Park, Linlithgow.
Two teams were tasked with creating an ecologically sustainable, environmentally friendly, and inclusive focal point to the vibrant country park. The aim was to layout a proposed building that could be constructed and deconstructed away from the intended site, known as off-site construction.
Team 2 won the first prize of £600 in the Off-site Ready challenge, when they designed a hub which would cater for cyclists, with open and accessible areas. Team 1 delivered their presentation on a centre which would withstand the elements, including a mezzanine complemented by the carefully considered path of the sun. They received the runner up prize of £300.
Eirwen Hopwood of West Lothian Council said she would like to see one of these designs become a reality at Beecraigs Country Park in the future.
Students from Edinburgh Napier and the City of Glasgow college have linked up to design a new visitor hub for Beecraigs Country Park, Linlithgow.
The 'Are you Off-site Ready? Online design challenge' was sponsored by Finnish renewable materials manufacturers, Stora Enso, who donated £900 to reward students for their efforts.
Rory Doak, business development manager at Stora Enso UK & Ireland, said: "Stora Enso were thrilled to support a student-led design project, showcasing the abilities of students to adapt to new working conditions and produce manufacturable, sustainable and inclusive designs.
"I hope we will see more competitions emerge, like this, that equip students with strong fundamental knowledge of inclusivity, and sustainable construction with timber.
"I am sure these principles will be key industry drivers in the future, and these students will continue to champion these design principles as they build their careers."
The challenge was originally set-up by Edinburgh Napier lecturer Dr Mila Duncheva and research assistant for the Centre for Offsite Construction and Innovative Structures, Louise Rogers; with Catriona Jordan, from City of Glasgow College, as a way of giving students an opportunity to gain some industry experience outwith the university curriculum and in lieu of the international internships usually available to students from Edinburgh Napier's School of Engineering & the Built Environment.
Edinburgh Napier lecturer Dr Mila Duncheva said: "This challenge was designed to develop students' transferable skills including teamworking, problem solving, working to tight deadlines and collaborative digital workflows using Building Information Modelling (BIM).
"I was astounded by both teams' intricate technical solutions and striking visual presentations and am delighted we provided a positive experience for them during the worst of the pandemic."
The project spanned 12 weeks, starting in June, presenting challenges for the students as they learned to work together remotely, whilst figuring out how to get the best from their designs and cater for the park's one million yearly visitors.
The Off-site Ready challenge teams collaborated with West Lothian Council to provide accurate geographical plans of the proposed sites. And engineering consultant firm SWECO did an analysis of the project's factors.
Students also attended a collection of lectures designed and delivered by their mentors, to help inform their designs.