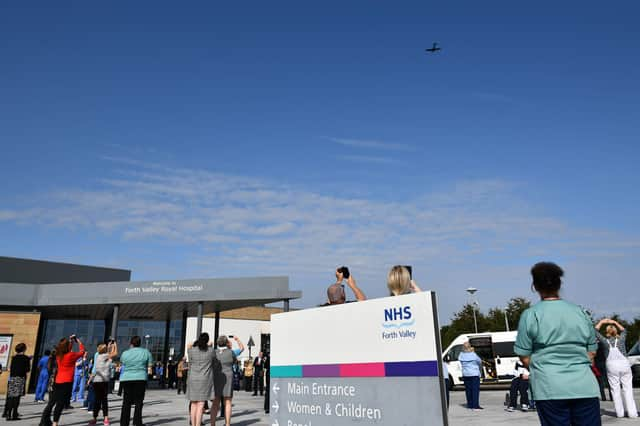 The NHS Spitfire passed over Forth Valley Royal Hospital on Thursday. (Pic: Michael Gillen)
The Aircraft Restoration Company's Spitfire, which has the words 'Thank U NHS' painted under its wings, flew over Forth Valley Royal Hospital in Larbert as part of a route which saw it pass over a large number of Scottish hospitals on a whistle stop tour of the country.
It was a rare chance for members of the public to see the historic aircraft, and many turned their eyes to the skies to see it.
A special fundraising campaign, which offers people the chance to have a loved one's name handwritten onto a Spitfire in return for a cash donation, is raising money for the NHS.
The Spitfire plane is flying over hospitals across Scotland to thank NHS staff for their efforts during the coronavirus pandemic and to raise money for NHS Charities Together. (Pic: Michael Gillen)
Nominated names will be added to the Aircraft Restoration Company's blue photo-reconnaissance Spitfire as a way of recognising small acts of kindness throughout the Covid-19 pandemic and supporting NHS Charities Together.
As the names are added, the UK will be able to watch the extraordinary visual spectacle unfold.
To submit a name, the public simply needs to donate a minimum of £10 to the JustGiving page.
Members of the public will then need to state their loved one's name and a reason for nomination in the donation comment.
Members of staff at the Forth Valley Royal Hospital watch a vintage Spitfire make a flypast. (Pic: Michael Gillen)
The aim is to lift the spirits of those across the UK, many of whom are still living in some form of isolation, whilst also thanking the hospitals, communities and individuals who have been at the forefront of getting the country through the pandemic.
Pilot John Romain with the "Thank You NHS" Spitfire before take off at Cumbernauld Airport. (Pic: John Devlin)