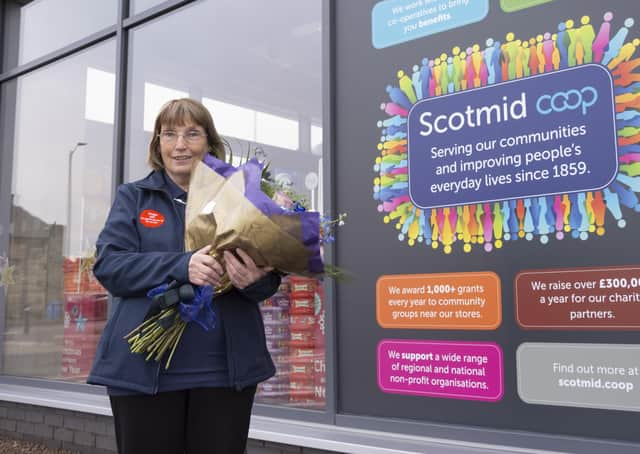 The new Scotmid store in Bo'ness was officially opened by Helen Veitch, who has been with the society for 36 years
Cutting the ribbon was long-serving Scotmid member of staff, Helen Veitch, who has been with the society for 36 years.
Helen was joined by John Brodie, chief executive of Scotmid, and Harry Cairney, Scotmid's president.
Prior to joining Scotmid, Helen worked with the Bo'ness Society and Scotmid has always been a massive part of her life.
She recalled how her wedding reception in 1979 took place in the Scotmid Co-operative Hall and she and her husband then set up home in a Scotmid Co-operative flat.
Helen said: "It's fair to say that I have seen many changes over the years at Scotmid, from store cheques to contactless payments!
"The move into the new store has been by far the biggest change I have witnessed in all my years and I am so proud of our new premises and broad offering for customers.
"My favourite part is the old photo on the side of the building, which brings back such fantastic memories."
The new store has been a 16-month lmajor renovation project that saw the team move into a temporary unit following the demolition of the original store in August 2019, to enable them to continue to service the local community.
As part of its increased offerings, the store now features the largest Food To Go of any Scotmid store in Scotland.
There are also fresh baked goods throughout the day, a fresh food counter with a range of hot and cold products prepared on site, and a full burger bar is in operation.
In addition the Bo'ness store continues to carry great value daily essentials and plenty of fresh produce.
The new Scotmid store will be led by store manager Sheila McKillop together with her team of 18 colleagues.
Sheila said: "We are delighted to officially open our doors to the Bo'ness community for customers to enjoy the fantastic range of food and essentials we have available.
"It's great to see how excited customers are with the larger Food To Go offering and we will continue to tailor our local offer to the products and service our customers are looking for."
The store is located at 66 Linlithgow Rd, Bo'ness, and will be open daily from 6am–10pm.