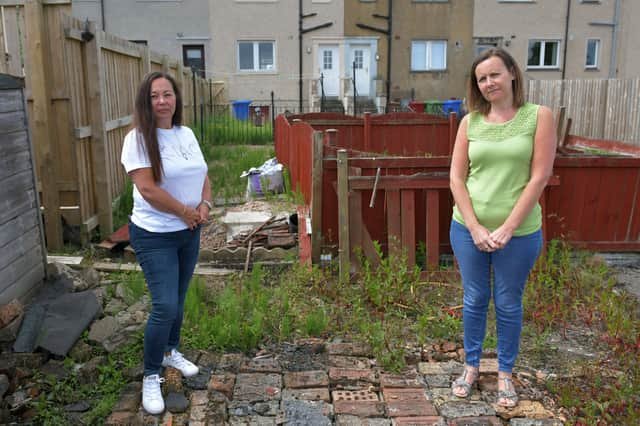 Lynn Gray and Dawn Niblo had been complaining to Falkirk Council about the situation since November.
Piles of rubbish including rotting food and bags of faeces lay for six months in the back garden of a Falkirk council house – despite repeated complaints from disgusted neighbours.
Now, the neighbours of a property in Windsor Road say Falkirk Council's delay in removing the trash has led to rats being found in all four terraced properties in the block.
The neighbours say the tenant – who was receiving care – did not use any bins but threw all of his rubbish out the back door or window.
After lockdown began he moved out and council workmen arrived but the rubbish remained piled high outside.
Emily Gray, who lives next door, said: "The smell was absolutely disgusting – especially when the sun was shining.
"We have all complained about it since November but we felt like we weren't being listened to."
The final straw for Dawn Niblo was two weeks ago when her West Highland Terrier began barking and whining at her neighbour's fence.
Dawn said: "I stood still for a while and then I saw a huge rat coming out of my neighbour's bin."
When she went to tell her neighbour, she saw a council joiner who said he'd seen a nest of rats among the rubbish.
Dawn asked the council to remove the rubbish immediately but when no-one had arrived by Friday afternoon, her partner went into the vacant house's garden and spent more than two hours putting rubbish into black bags.
That weekend, it became apparent the rats were in all of the houses.
Dawn said: "We have never had a problems with rats before. This is entirely due to the rubbish not being taken away."
The past few weeks have been very stressful for Lynn Gray who left the family home for lockdown while her house went into quarantine.
When Dawn warned Lynn's daughter Emily and boyfriend Max about the rats, they set traps and caught four rats in the kitchen the first night.
And the family also believe the rats led to the death of Emily's one-year-old kitten, Onyx.
It developed breathing difficulties and died overnight and she was later told by a vet that the cause was mycoplasmosis which could have been because of contact with rat's urine.
Lynn said: "She was a much-loved pet and she was a house cat so there's no way she could have caught this anywhere else."
Lynn and Dawn think the council should foot the bill for the pest control and they have been backed by their local councillor, Pat Reid.
The rubbish was eventually lifted by council workmen on Monday following the sighting of the rat and another van came the next day to try to collect it too.
"It feels like departments don't speak to each other," said Dawn. "The whole thing has just been really frustrating.
A Falkirk Council spokesman said: "We received a complaint about vermin and have since removed waste from the garden.
"Our tenants are aware of the correct ways to dispose of their household waste and recycling.
"However, if tenants are having difficulty with this we provide further support if required."