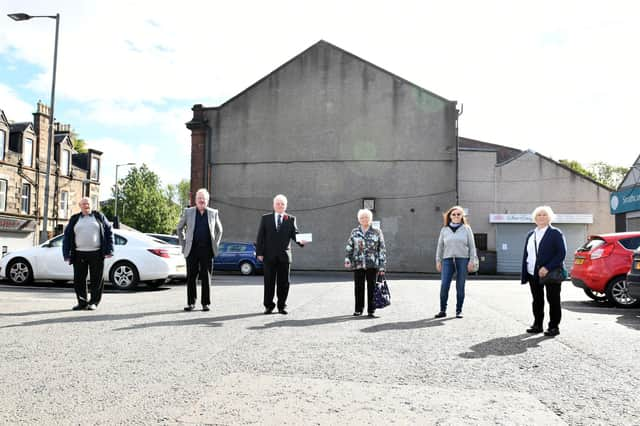 Greenhill Historical Society are looking for ideas for a mural on the side of the former Co-op building in Bonnybridge. Pic: Michael Gillen.
Historical society member Paul Cortopassi believes the drab gable wall of what was once the village Co-op would look much better painted – and it would be a perfect way to celebrate the area's rich heritage.
"It's a big, blank, ugly wall and it would be nice to put something bright and interesting on it," said Paul.
"I'd been looking at the Glasgow murals and I just thought something in that photo-realism style would look terrific.
An artist's impression of what a mural on the site could look like.
"I took a picture of the building and I superimposed one of the Glasgow murals on to it so people could see the idea.
"I circulated it and everyone thought it was a brilliant idea."
Paul and his fellow members of Greenhill Historical Society have quite a track record of seeing what Paul calls his "daft ideas that seem to work" become reality.
Previously, the society had a fundraising drive to recreate the giant Smith & Wellstood mural – the biggest outdoor mural in the UK at one time.
It received such massive support from local people that the money was raised in just a few months for a replica mural on Bonnybridge Community Centre.
They recently developed 16 historical panels that tell stories of the area's history over the years.
And Paul also had the idea for a public artwork recalling the Roman influence on Bonnybridge.
While they now have permission from the building's owner, the committee has several hurdles to overcome before they can start the project – including making sure the building is sound enough.
They also need to decide what the mural is to be about – and as a history society, they hope it will have a connection to the village's heritage.
They would like to hear ideas from the community and then will commission grafitti artists to sketch some designs for people to choose from.
Paul himself would like to see a tribute to the clay miners who played such an important role in the area's history.
Provost Billy Buchanan has been supporting the project and started the fundraising ball rolling with a donation of £250, which he presented to the group.