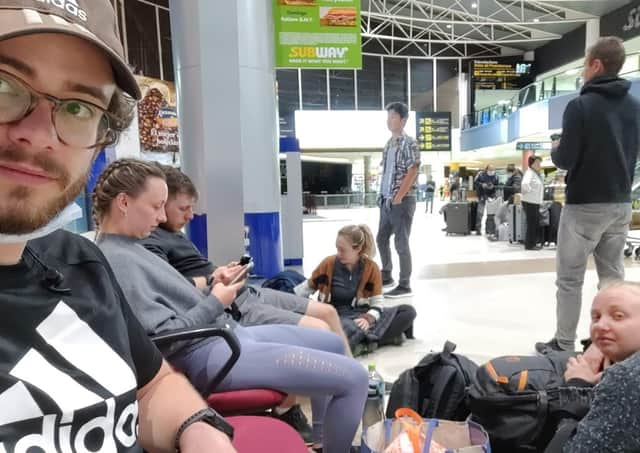 Kenneth, left, waiting for a plane from Bolivia to Chile.
The pair had been on a gap year adventure in the wilds of Bolivia's salt plains, and were late to find out about the pandemic which has closed national borders across South America.
They managed to get a flight from Bolivia to Chile, but feared Chile would end ex-patriation flights before they were due to catch a flight from capital Santiago to Madrid.
However they managed to beat the clock, said Elizabeth, and after an exhausting journey arrived in Madrid - from where they were able to return to the UK surprisingly quickly.
"Now, though, they are both in quarantine for a fortnight in a house provided by a friend", said Elizabeth.
"After that they will be fine, and I am just so glad to have them back - it is a huge relief".
Less fortunate are Falkirk couple Peter and Sheena Johnstone, who fear they will be confined to a hotel room in the Peruvian city of Lima for a fortnight.
Their tour agency was unable to gain places for a flight home, and - with dozens of fellow British nationals on the same tour - feel the UK Government has badly let them down by failing to do more.
The hotel where they are staying has been used as a transit base for other foreign nationals trying to leave Peru, and for that reason guests are forced to stay in their rooms and have meals brought to them for fear the virus could quickly spread.