Michael Matheson: SNP constituency group backs Falkirk West MSP
Beleaguered MSP Michael Matheson has received the full support from his local SNP constituency party.
Watch more of our videos on Shots! 
and live on Freeview channel 276
Visit Shots! now
Days after he made an emotional statement in the Scottish Parliament on why he had run up an £11,000 bill for his iPad, the Falkirk West Constituency Association said the long-serving politician had the continued backing of its members.
It added that they saw no reason for him to resign from his government or constituency roles.
The MSP and health secretary has admitted an £11,000 data roaming charge on his parliamentary iPad was incurred after his teenage children watched football while on holiday in Morocco.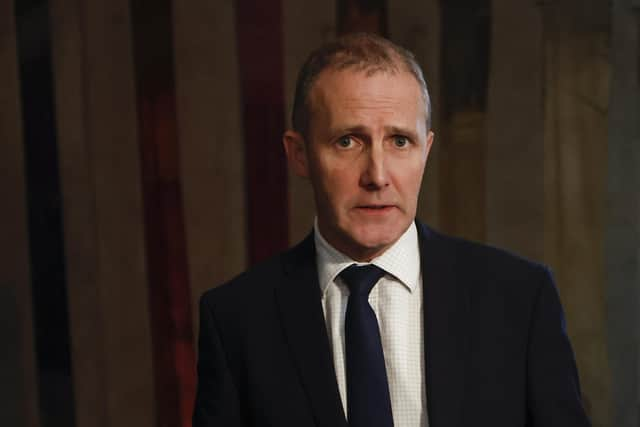 Last Thursday, Mr Matheson said he had made "no reference" to the revelation in the last week to protect his children. He told MSPs: "As a parent, I wanted to protect them from being part of the political and media scrutiny associated with this, something I believe any parent would want to do.
"I am a father first and foremost. That was a mistake and I am sorry. I can see now that it just isn't possible to explain the data usage without explaining their role.
"Presiding Officer, the simple truth is they watched football matches. On Tuesday, I told the First Minster that members of my family had made use of the iPad's data and yesterday evening, I provided him with a full account of the matter and of my intention to inform parliament.
"Presiding Officer, disclosing this information about our family has been extremely difficult. Mistakes have been made. By me. By my family. And mistakes have been made in the way I have handled this."
Mr Matheson said he referred himself to the Scottish Parliament Corporate Body for it to consider whether to investigate the matter further.
He has faced intense scrutiny after it emerged he racked up a bill of £10,935.74 on his iPad during a week-long visit to Morocco between December 27 and January 3 this year.
He previously provided a written assurance of the Scottish Parliament that the cost was incurred while carrying out parliamentary work. On Monday, days after finding out about his sons' actions, he was asked by journalists if there had been any personal use of the device. He said no.
The local SNP group said in a statement on its Facebook page: "The executive of the Falkirk West Constituency Association have discussed the situation regarding the incident involving our Member of the Scottish Parliament Michael Matheson.
"We believe despite the error made, Michael and his family have made full amends to the Scottish Parliament and the Scottish public.
"We believe that in light of this, Michael should continue in his role as MSP for Falkirk West and Cabinet Secretary for NHS Recovery, Health and Social Care, and we would not contemplate his resignation.
"To date he has carried out his duties in an exemplary fashion and been a diligent MSP for Falkirk West constituency.
"We full support him going forward and have faith he will continue to serve his constituents to the best of his ability, as well as continuing the pursuit of independence for Scotland."