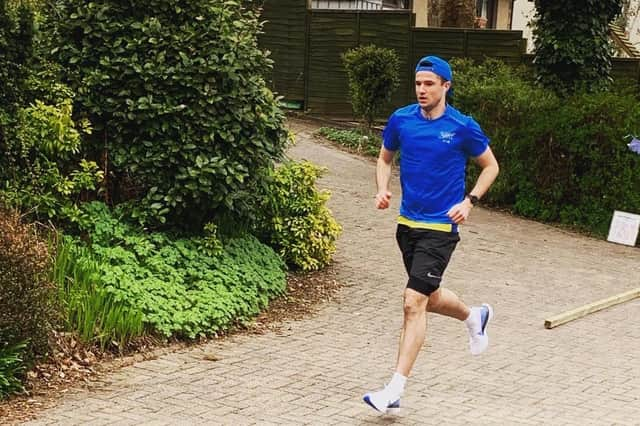 Ruaridh Miller completed a marathon on his driveway in support of Strathcarron Hospice.
Ruaridh Miller managed to clock up 26.2 miles by running 2100 lengths and gathered close to £2000 in donations for the palliative and end-of-life care service in the process.
The 24-year-old crossed the finishing line in a time of just over four hours on Sunday.
Ruaridh is well aware of Strathcarron's importance as his mum, who is from Falkirk, volunteers there, while his auntie works in one of the hospice's 17 shops.
After breaking his £500 target, the Stirling resident said: "It was hands down the most difficult thing I've ever done both physically and mentally.
"I can say without a doubt that the golf ball blisters and aching legs are completely worth it.
"The support I received was absolutely phenomenal which really illustrates the solidarity of the community in this tough time. I was blown away.
"My mum set up a very good course with bunting and banners, she even laid out a nutrition station with every athlete's best friend, Jelly Babies.
"At times I felt like chucking the towel in when my legs were cramping and the finishing line felt so many lengths away.
"However, I got past this by remembering why I was doing it. Strathcarron are a pillar of our community and the work they do is outstanding.
"We need to show them the support they've so selflessly shown us."