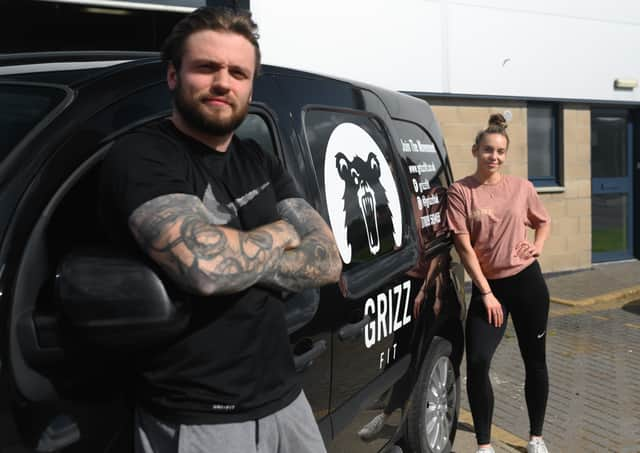 GrizzFit ownersTom Griscti and Jenny Matthews.
GrizzFit, owned by ex-Royal Marine Commando, Tom Griscti, and his Linlithgow raised ex-gymnast partner, Jenny Matthews, opened its doors on Monday.
The state-of-the-art gym at Mill Road Industrial Estate offers classes, personal training and open gym, and has been designed in a way that ensures everyone can work out safely in a socially distanced environment.
Tom, who is also the gym's head coach, said: "It feels great to finally have our doors open to our new members after months of uncertainty.
GrizzFit ownersTom Griscti and Jenny Matthews.
"Starting a business is difficult enough without the added pressures of a global pandemic, but we were lucky that we have only needed to make minor adjustments to our plans unlike many other businesses who have had to completely rethink their whole set-up.
"It's great to be able to bring some joy back to the community after we've all spent so long lounging about in our houses! We're absolutely buzzing to get our teeth stuck in to it and to help everyone achieve their fitness goals in a safe and clean environment.
"It has been crazy so far in terms of demand, we've been blown away by how much interest there has been in our classes and personal training sessions, but that shows that what we have is something a bit different from every other gym in Linlithgow."
GrizzFit's membership starts at £30 per month and free sessions are offered before joining. Visit www.grizzfit.co.uk or call 07809 569455.