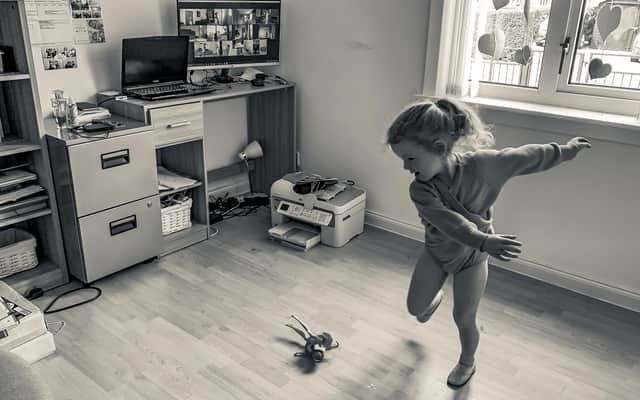 'Dance Like Nobody's Watching' - Sara Amelia has captured every day lockdown life through her photographs
A Stenhousemuir photography student has been capturing lockdown through a lens.
Sara Amelia, a first year HND Photography Student at Forth Valley College, has snapped photos of every day life with her partner Barry Cowan, three-year-old daughter Freya and Staffordshire bull terrier Kira at their home over the last seven weeks.
The striking sepia photos – entitled Home School – have framed what it has been like for people experiencing the 'new normal' due to the coronavirus pandemic.
Photographer and student Sara Amelia, from Stenhousemuir, with three-year-old daughter Freya
And the portfolio of images are part of the 32-year-old's graded unit end of term project.
Sara was a carer with Falkirk Council for 13 years before starting her own wedding, portait and real estate business, named SAC Photography – Sara Amelia in 2017.
She said: "Attending college and doing the HND Photography course has been so beneficial for me and I have learned so much.
"I was going to finish my first year and complete the HNC, but recently I have been learning about documentary photography and photo-journalism and it has become my total passion.
'Home School' - Sara's images are snapshots of everyday life at the moment with her partner Barry Cowan and daughter Freya
"My lecturer Matthew Sowerby has really opened my eyes to this form of photography and this is what inspired me to do my graded unit on life under
lockdown and now I can't wait to start my second year and complete the HND.
"I had two other ideas for my project initially – one involved using some of the interesting wedding photos I have taken – and while they are good and I might have passed or got an 'A', Matthew convinced me to go with the lockdown pics as I agree with him that they have much more soul.
"I really would love to do more of this type of photography when I leave college and I am going to produce a book of all the photos I have taken while stuck at home as I have only selected a few for the graded unit."
'This isn't me' - a total of 27 images make up Sara's graded unit project
In her intro to the photos Sara says: 'It took a while to adjust, into a world of no apparent goals, appointments or schedules. It seemed like the world was ending. But gradually, week by week, the people began to change. We painted rainbows with our children and stuck them to our windows. We played, and baked and ran and danced. Trapped in isolation, but free from institution.
'And although apart, the people came together. We stood outside once a week and clapped while waving at our neighbours. Thanking the NHS and those essential workers with a new admiration and respect.
'I can't tell you the end of this story, for it has not ended yet. But what I can tell you is, I am changing, people are changing, the whole world is evolving.'
Lecturer Matthew Sowerby, said: "Sara has produced an important photographic document of life under lockdown. It's an excellent example of how
'Road Trip' - the sepia images were captured by Sara during the first seven weeks of lockdown
college assignments can be closely attuned to real-world situations, giving students the chance to develop skills, knowledge and confidence - around projects that 'matter' Sara's documentary is very much a case of 'making learning work', and forms part of an impressive photographic portfolio she can show to employers."
Colin Gunning, curriculum manager in Forth Valley College's department of creative industries, added: "It is wonderful to see our learners continuing to engage with their studies – particularly when having to do this alongside family and work commitments.
"I am incredibly proud of Sara and the rest of her photography colleagues for continuing to produce such high quality and stimulating work during these challenging times."
Sara's photographic graded unit consists of 27 images and can be viewed here