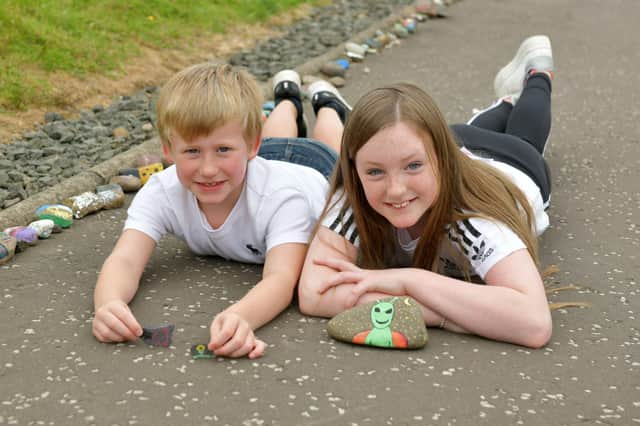 Lucy (10) and Josh (6) Murray tarted a 'lockdown caterpillar' inviting people to paint stones and add them to the head to create a caterpillar. It's now over 25 metres long.
Colourful and unusual creatures have been appearing across the Falkirk district in recent weeks thanks to local people's creativity.
Lockdown Caterpillars and Snakes, made from painted stones have been springing up within our communities, with people encouraged to join in by painting their own stone and adding it to the tail.
Among those in the district is one at the entrance to Gairdoch Park in Carronshore, and one in Redding's Callendar Rise estate.
Lucy and Josh Murray started the caterpillar for all the children in the Callendar Rise estate around three weeks ago.
Brother and sister Josh (6)and Lucy (10) Murray started the one on Jarvie Road around three weeks ago and have enjoyed watching it grow.
Mum Clare explained: "We had been hiding and finding painted rocks in the estate when we were on our walks during lockdown.
"There's a Facebook chat page for the estate and everyone was posting pictures of the rocks they found and then re-hiding them for others.
"I saw a Facebook post from someone in England starting a lockdown snake and I showed it to them. They decided to start a caterpillar for all the kids in the estate.
The caterpillar is on Jarvie Road, Redding.
"We painted a head and a few rocks to get it started and we put up a poster on the lamp post, and advertised it on the estate Facebook page.
"It's on one of the main roads through the estate so more people can see it.
"People are asked to add their own painted rocks to the caterpillar's tail and not to take any away.
"Everyone has got involved and has been posting photos of their kids adding their rocks to it.
The community have got involved by painting their stones and adding them on.
"It's been a great incentive for my own kids to get out a walk, to add more rocks occasionally and see how it is growing.
"They can't believe how long it is now.
"It's now over 25 metres long!"
Clare said Josh and Lucy, who are pupils at Sacred Heart Primary in Grangemouth, were proud others had been adding to the caterpillar.
Some of the colourful designs.
The caterpillar is now over 25 metres long.