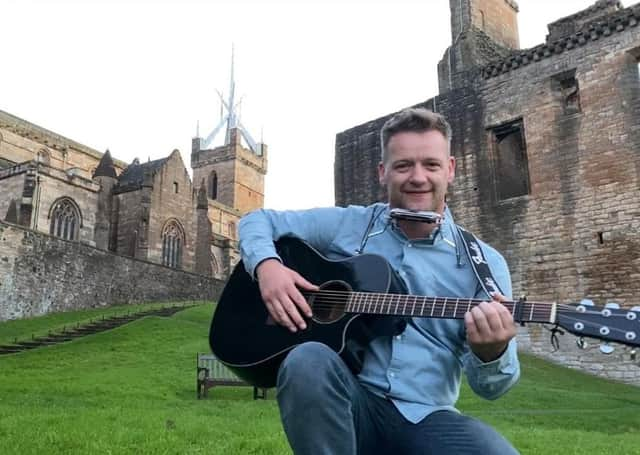 Linlithgow singer songwriter Jamie Clelland's debut 'Sing Out' is available on Spotify, iTunes and Amazon Music.
A joiner by day, Jamie has released the uplifting pop song written by CJ Graham Songs and is now hoping to swap his tool box for his guitar on a more permanent basis.
He said: "It's always been a hobby for years and years, I started playing at parties and did a couple of weddings.
"When lockdown started I posted videos on Facebook of me singing and playing my guitar, singing various covers and my own songs.
Linlithgow singer songwriter Jamie Clelland.
"Colin Graham, a songwriter from a studio in Dunfermline got in touch and invited me to record this song he had written with me in mind when he saw me online.
"I went up there two nights a week for about four weeks to record the song. I'm really happy with how it turned out.
"This is my foot in the door to get my own music out there and I hope to have my first self-penned song, 'Rollercoaster of Love' out in November.
"I have been doing live shows on a Canadian website so I have a bit of a following in Canada. I have got a real gig for 400 people in Nova Scotia in November, if Covid allows.
"I have had thousands of views across the world."
Jamie has high hopes for his future in music. He added: "Quite often I'm up in the morning writing music before I go to work. I have got about 12 songs that I think are good enough to put out.
"During lockdown I wrote as much as I could, and I'm going to continue to work with Colin, and Katie Kerr from Edinburgh, who has done backing vocals on my videos.
"I'm a late bloomer. Although, I started playing guitar when I was 14. And when I was younger mum had me in the choir so I've always sung.
"I probably wouldn't have been good enough or confident enough to release my own song in the past. But I have now got confidence from doing the lockdown videos.
"My dream is for it to take off, I would love to do music full-time."