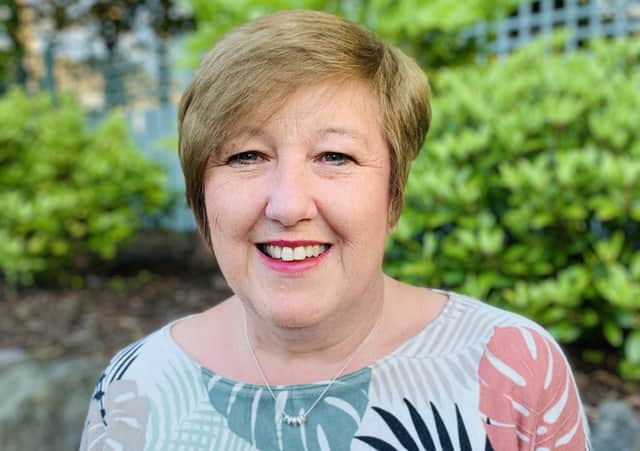 Marjorie Russell.
Through the mediums of FaceTime and Skype she has encouraged families to share fond memories, favourite stories, adventures, things that made them laugh and cryand delivered moving, fitting tributes that have really captured the personality of the deceased and celebrated the life they led, filled with music and stories that meant so much to them.
The constraints of social distancing have meant that the numbers able to attend funerals has been limited to close family only, which has caused additional upset to families who feel they are not able to give their loved one the send-off they deserve.
After each funeral Marjorie, who is part of the Fuze Foundation, produces a condensed version of the tribute, with a favourite photo on the front (like an order of service) for families that they can share with their family and friends who would have attended the funeral under normal circumstances.
Marjorie described how a funeral she conducted at Warriston Crematorium was shared far and wide. "The immediate family gathered at the crematorium, where chairs had been removed from the chapel, leaving only 12, spaced out to meet social distancing rules. We all used the hand sanitiser placed at the door as we entered and left.
"The ceremony, which lasted 30 minutes and was packed with stories that reflected Eddie's long and interesting life, was filmed and live streamed which meant his wife, brother and other close family and friends, from as far afield as Spain, unable to attend the funeral were able to watch it live.
"In times like these, it's important to look for what we can do rather than focus on what we can't and sometimes it's these little things that give families the greatest comfort as they come to terms with the loss of their loved ones.
"I hope you will agree that with some extra care and thought, even during a pandemic we can still give them a fitting, loving and respectful send off.
"Some of these little things included a piper playing as the hearse left Moira's street, with all the neighbours standing in their doorways clapping, or the hearse passing Easter Road so that Eddie could make one last visit to his beloved Hibs football club, where he had been a season ticket holder since he was a boy. These are the things that matter."
Marjorie has received many messages of thanks for her thoughtful and caring approach including from local Elle Hair Salon owner Sandra Robertson, who recently lost her mum.
She said: "Marjorie was the celebrant for my mum's funeral a few weeks ago and I can't recommend her highly enough. She was professional, kind and caring and helped us so much. On the day of the funeral she spoke about my mum exactly as we had described her. I phoned Marjorie straight after the funeral to tell her what a wonderful job she had done, she helped me and my family going above and beyond."
If you would like to know more on what Marjorie can offer, contact her via email [email protected], or phone 07854413892.