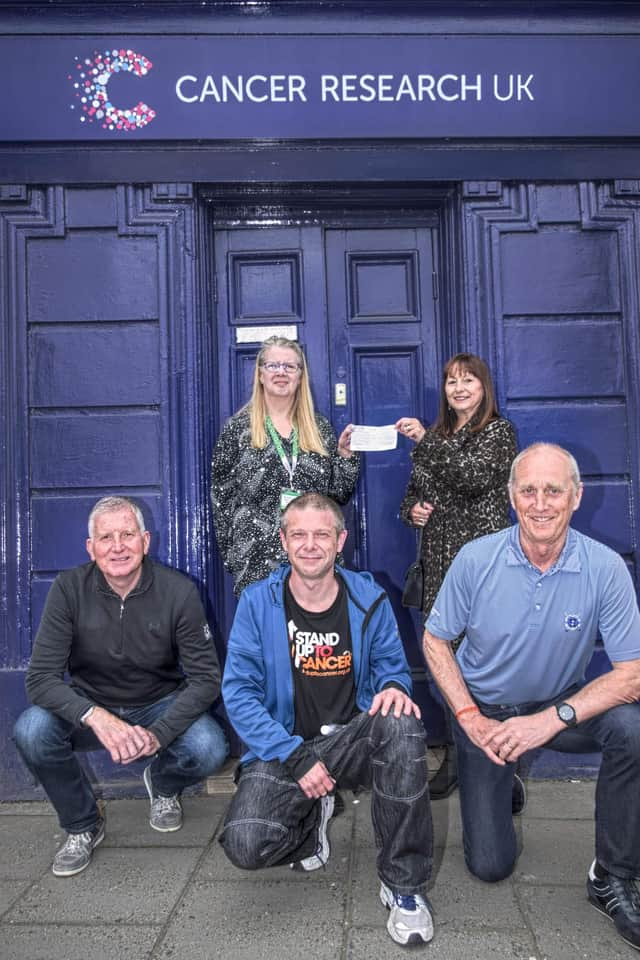 Hugh's wife, Mags Wright (top right), handed over the cheque at the Cancer Research UK shop in High Street, Linlithgow. Left to right Yvonne Stevenson, Mags Wright, Ian Shiells, David Thornton, Colin Fowler.
A total of £3,694 was raised for Cancer Research UK at the Hugh Wright Memorial Trophy competition day at Linlithgow Golf Club on May 9. The event organised by golfers Ian Shiells, Duncan Oliver and Colin Fowler saw 210 players take part. The winners, Andrew Corr and Gregor McKenzie picked up the trophy after finishing with a score of 61.
The annual fundraising event was in honour of former company director Hugh Wright - known as Shug to his family and friends - who developed a love for golf after joining Linlithgow Golf Club as a teenager. Dad of two Hugh sadly died from peritoneal cancer on June 7, 2018, aged just 57.
Hugh's wife, Mags Wright, handed over the cheque at the Cancer Research UK shop in High Street, Linlithgow.
Mags, from Linlithgow, said: "My husband loved golf all of his life and met some of his very best friends out on the golf course.
"He made the final of the club championship several times and even went away on holiday every year to golf with friends. He was a wonderful husband and father and is missed every day. I know it would mean so much to him to know that there's now an annual memorial trophy in his name.
"It helps keep his memory alive. I think he would also feel proud to know that the trophy in his memory is now also helping to raise vital funds to help other families.
"So many people are affected by cancer and it's time we did everything in our power to support the research which will save lives."
In Scotland, around 32,400 people are diagnosed with cancer every year.
Thanks to the generosity of its supporters, Cancer Research UK's work into the prevention, diagnosis and treatment of cancer has been at the heart of the progress that has seen survival in the UK double in the last 40 years.
Yvonne Stevenson, deputy manager of the Cancer Research UK shop in Linlithgow, said: "We are incredibly grateful to Mags and all of her family for their support.
"The Hugh Wright Memorial trophy day this May was a tremendous day and we'd like to thank all at Linlithgow Golf club for the hard work and planning which went in to making the event a success."