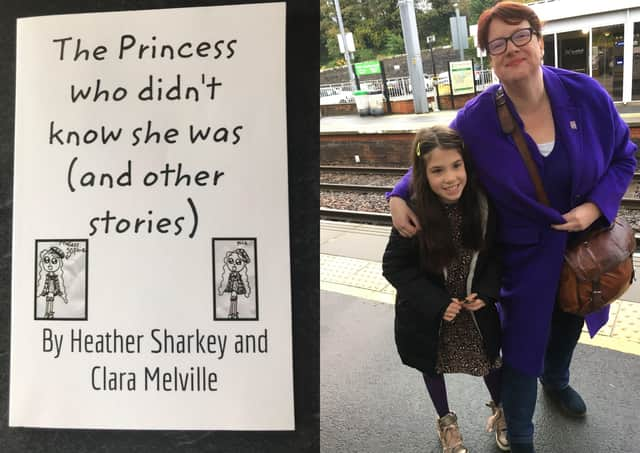 Clara Melville & Heather Sharkey have written The Princess who didn't know she was (and other stories).
Springfield Primary pupil Clara Melville and her mum Jennifer's friend Heather Sharkey have written 'The Princess Who Didn't Know She Was (and other stories)', which is now available to buy from the Far from the Madding Crowd bookshop.
Business consultant Heather said: "I've known Clara's mum Jennifer for many years as we were at school together, and it's been fun doing the book with Clara.
"I had been having some calls with Clara and her big brother Sean because their mum was self-isolating, to give the kids someone to talk to.
"Clara told me a story, then I told her one I was writing, and then we just started writing this story together, with her doing the illustrations.
"Then she wrote another story all by herself, with me doing the illustrations.
"The stories she comes out with are amazing.
"We go back and forward to each other with the ideas. It was Zoom calls for this first book but now we are texting each other, as we work on future ideas. Jennifer then proofs it for us. I think we well do more. It's fun and I think it's good for the both of us.
The duo are delighted that the local bookshop is stocking their first work together. Heather added: "It was really nice that Far From the Madding Crowd said they would take copies because Clara is local. We are dead chuffed.
"I think Clara is quite excited about it. She oscillates between being excited about the book being published and worrying that nobody will like it. I guess like most authors.
"We have put our story out there and we hope people love it and enjoy the book."
The process has kept the pair busy during lockdown.
Heather said: "I have never had anything published before. I have written another book, which I'm trying to get Clara to draw pictures for but she is busy with school. And I'm writing a non-fiction book.
"It's nice to do something creative, a bit more fun than cash flows and spreadsheets. It was good to do something different during lockdown.
"I think lockdown has given people a new appreciation of what's nice to do and what's not nice to do. Like not having to commute to work and having more sit-down dinners with the family."
The book contains three stories based around main characters Mia and Sophie who discover that they look identical to each other but Sophie is a princess and Mia lives in an orphanage.
Clara, who has been busy recently working on a new book about mermaids who live off the west coast of Scotland, is delighted that one of her dreams has come true at such a young age.
"I think people like the book, it was great to have it published," she said.
"I have got lots of other dreams like getting a unicorn, but that's one dream accomplished already.
"I think I will be an author for a bit but me and my friend Caitlin are going to be a pop duo, or YouTubers who go on Strictly. Or explorers."
The book is also on sale online at www.blurb.co.uk/b/10243102-the-princess-who-didn-t-know-she-was-and-other-st.