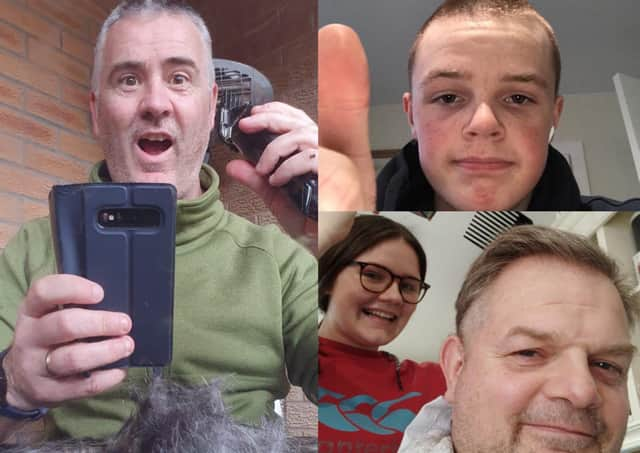 Top left: Eddie Curran involved in the challenge as well as sponsoring all the other cuts - Managing Director of CBS Consulting, Edinburgh. Top right: Findlay Chadwick, a pupil at Linlithgow Academy (15) had his hair cut by a parent. Bottom right: Nick Chadwick having his hair cut by his daughter Niamh Chadwick (17).
When a group of friends from Linlithgow realised they were in need of more than just a little off the sides, they created a fringe-raising scheme to support the work of the British Red Cross.
Father of two, Mike Roberts (51), a director of sports development for sportscotland, and wife Rachel (49), an occupational therapist with NHS Lothian, knew it was time for Mike to have a trim. Two weeks ago, they ordered a new set of hair clippers. While the clippers arrived in a few days they stayed in the box until the decision was made. It was time to act, and daughter Freya said she'd do the cutting.
Mike said: "To trust a 12-year-old might be considered brave, especially as she hadn't done this before, but my hair was getting a bit too bothersome. We had seen the work of the Red Cross in Scotland responding to vulnerable people during this virus outbreak and I wanted to support with donating the cost of my regular cut."
Freya, a first-year pupil at Linlithgow Academy, started with the clippers set on four. She said: "I saw other friends cutting hair online and dad was really needing a haircut. I wanted to take part and support a charity like the Red Cross. I took a video on TikTok as well, to get others to join in."
Mike was full of praise: "She actually did a pretty neat job too, so as well as my £10 usual cut I added a £10 tip!"
The idea has now spread across town with other dads having their children cut their hair. A police officer, railway signaller and a managing director have all been snapped getting a hair cut, and with business sponsorship £500 has been raised.
Fran Smith, who manages Community Fundraising in Scotland for the Red Cross, thanked everyone for the idea and their support: "They've done a great job – others are welcome to join in.
"So get out the scissors and comb, treat yourself to a trim and support an organisation like the Red Cross as we deliver practical and emotional support to vulnerable people."
Anyone can give the Red Cross the cost of their haircut plus a tip to donate.redcross.org.uk and put a photo on social media using #RedCrossFringeRaiser.