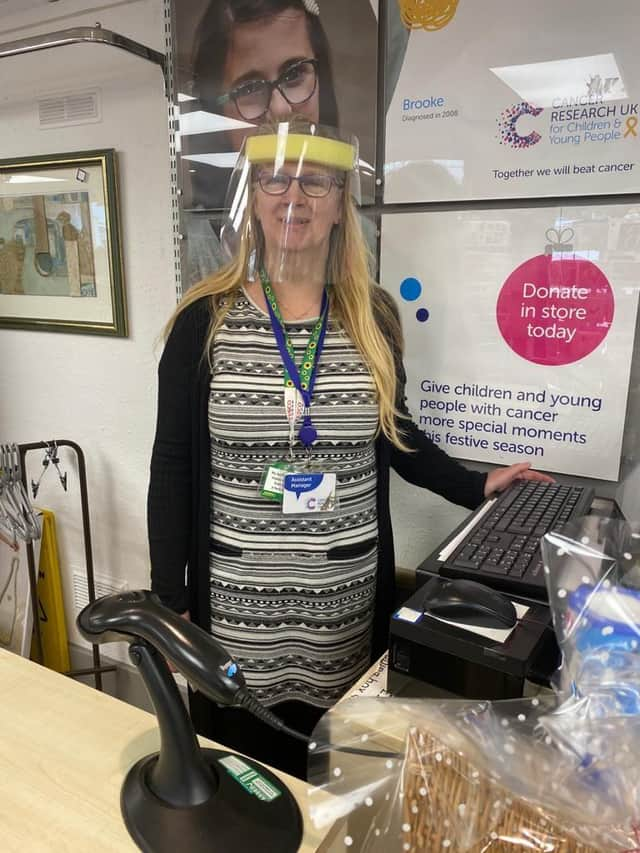 Yvonne Stevenson, assistant manager of the Cancer Research UK shop in Linlithgow.
The doors of the Cancer Research UK shop at High Street, Linlithgow opened again to customers on Monday.
Cancer Research UK spokeswoman, Lisa Adams, said: "Covid-19 has hit us hard. Our shops typically contribute more than £25 million each year to vital research, so we need the support of the whole community to help us fight back. Shopping really can save lives.
"That's why we're calling on everyone who's had a spring-clean, wardrobe detox or cupboard clear out in lockdown to please bag up and bring in any unwanted items.
Yvonne Stevenson, assistant manager of the CRUK shop in Linlithgow.
"We need quality clothing, shoes, books, homeware and accessories to help keep our tills busy."
She added: "Most important of all, the sale of these items helps to ensure we can keep making progress for people with cancer.
"We're also on the lookout for volunteers to help with sorting and preparing donations and to serve in our shops. It's 'all hands on deck' to help tackle the devastating loss of funding we're facing.
"One in two people will get cancer in their lifetime**, which is why we're absolutely determined to continue to create better cancer treatments for tomorrow.
"Our research has played a role in developing 8 of the world's top 10 cancer drugs and we're working every day to find new ways to prevent, diagnose and treat the disease. But we can't do it alone.
"Every step our scientists take towards beating cancer relies on every pound raised. So, whether they shop, donate or volunteer their time - with the help of people across Linlithgow we believe that together we will beat cancer."