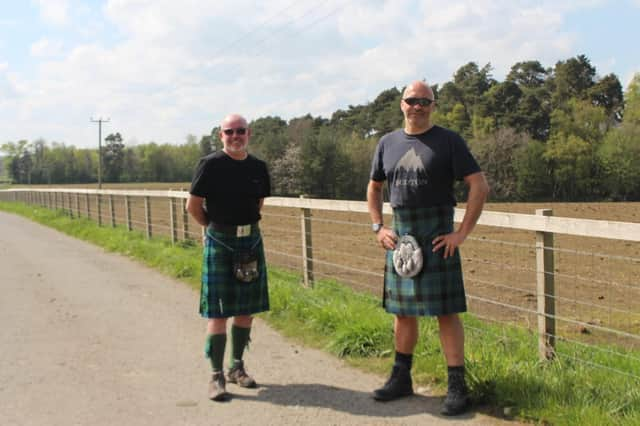 Linlithgow & Bo'ness Rotary Club member Martin Brownlie and vice president Jamie Frame walking the Kiltwalk challenge.
The local rotarians have made donations of £2500 each to the Bo'ness Storehouse, West Lothian Foodbank and MPACT Foundation - who are helping with the current India Covid-19 crisis.
The rotary club members walked throughout April around West Lothian, setting themselves the challenge to walk to the furthest Rotary Club they could, virtually, making it to Rotary Club of Geneva, 1016 miles away.
Club member Martin Brownlie said: "As it is a virtual kiltwalk this year there was a lot more flexibility. We could effectively do what we wanted to do to raise money, so we decided to walk as many miles as possible.
Linlithgow & Bo'ness Rotary Club's secretary Tony Edwards and Tom Davidson presenting the cheque to the Bo'ness Storehouse foodbank.
"Some people did less, maybe 30/40 miles, but some did 200 miles. It was quite surprising how many we got too in the end. As well as us members, a couple of our wives took part also. So it all added up. We raised a fair amount of cash on Just Giving, we were delighted."
Speaking about how members carried out the challenge, Martin added: "It was round the town, up the hills. Just local, because we couldn't leave West Lothian due to the coronavirus restrictions at the time.
"So we just walked where we could, trying to get as many miles in as possible.
"I think we have exceeded all expectations on how much we would walk and how much we would raise for charity. We were hoping for a couple of grand or so.
"It was such a successful event I think we will try it next year as well. It's been a really tough year to raise money for charity and they need help more than ever, so this was a great way of helping them."
Martin explained why the club chose these charities: "We gave MPACT some money a couple of years ago for the Indian train crash. They work in Asia and Africa, helping people affected by disasters and things like that. So right now they are focusing on the Covid outbreak in India.
"We will give £2,500 to them and the two local foodbanks. We had a presentation from the foodbank a couple of months ago and everyone agreed it was a great cause, particularly with people losing their jobs due to Covid and needing a foodbank."