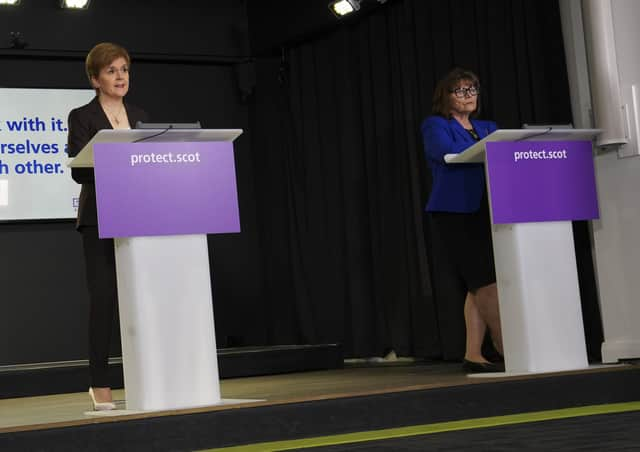 A Scottish Government Covid-19 daily briefing with the First Minister Nicola Sturgeon (left).
The latest weekly figures from Public Health Scotland, for October 24-30, show that there were 307 cases in West Lothian, down from 460 the previous week (October 17-23). The rate per 100,000 of population is therefore down from 251.2 to 167.7. And in Edinburgh the rate is down from 94.9 to 81.9.
However, in the Falkirk Council area cases jumped from 167 for October 17-23 to 185 last week. This means the per 100,00 rate is up from 167 to 185.
Looking at local authority neighbourhoods, the Bo'ness- Douglas ward recorded seven positive Covid-19 cases last week, while Blackness, Bo'ness - Carriden and Grahamsdyke had 10, giving both areas a rate of more than 100 cases per 100,000 population.
Last week's figures place Linlithgow North in the 0-15 cases per 100,000 category, Linlithgow Bridge is at 75-99 and Linlithgow South 50-74.
Queensferry West and Kirkliston are at 50-74, while Queensferry East is in the lowest category, less than 15.
West Lothian, Edinburgh and Falkirk council areas have all been placed in tier three of the new five-tier Scottish Government Covid restrictions which began on Monday.
Level 3 restrictions see cafes, pubs and restaurants allowed to open until 6pm to serve food and non-alcoholic drinks. Alcohol sales would not be permitted indoors or outdoors.
All leisure and entertainment venues are closed at this level, including cinemas. No non-essential travel is allowed out of a Level 3 area. Indoor exercise, which includes gyms, will be restricted to individual exercise.
Responding to the new tier system, West Lothian Council leader Lawrence Fitzpatrick said: "We all want to get back to a situation where we can enjoy our spare time, see family and friends and get back to a more normal life.
"It is therefore so important that we all pull together and do what we can to reduce the infection rate and beat this virus back.
"Please think of your family, friends and your future, and follow the guidance. This will help to protect you and those around you. Please everyone, stay safe."