Larbert mum born with congenital heart disease co-writes book she'd been looking for
A Larbert mum, who was born with congenital heart disease, has recently published 'the book I'd been looking for' and hopes to offer support for those living with the condition.
Watch more of our videos on Shots! 
and live on Freeview channel 276
Visit Shots! now
Dr Liza Morton was born with complete heart block, and in 1978 at just 11 days old in what was a world first at the time she was fitted with an internal pacemaker at Glasgow's Yorkhill Hospital. Ever since then, every heartbeat has been artificially generated for her.
Liza said: "I was on an external pacemaker when I was four days old. They fitted an internal one when I was 11 days old in a world first at the time. That one broke, I had a stroke and they had to give me another one. By the time I was seven I'd had five pacemakers. Every time they had to replace one they had to burst open my ribs to get into my heart. I'm now on my 11th pacemaker."
Liza's childhood was spent going in and out of hospital, undergoing major surgery. She describes her treatment at the time as "very experimental". The pacemakers themselves were physically limiting for a young girl.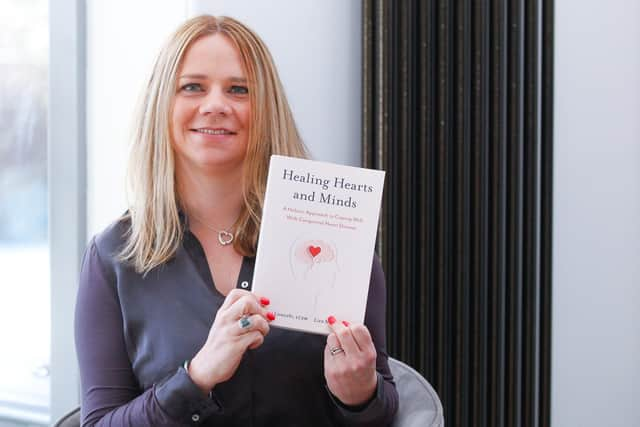 The 44-year-old explained: "Back then it was physically limiting. It was really just a big battery on my heart and it would limit my heart rate. I couldn't really exert myself, I wasn't able to do PE at school or do things like dance lessons. They gave me a variable one when I was 13 and I had open heart surgery to repair a hole in my heart.
"I was in and out of hospital all the time. It felt really relentless at a time when I was trying to fit in with my peers and I was self conscious about my scars.
"I experienced a lot of medical trauma, but they didn't really have a word for it back then. I knew I was different to my peers. I'd have major surgery and be back at school three weeks later.
"I didn't really like being different and I masked it as much as I could. I ended up with Post Traumatic Stress Disorder (PTSD) in my late teens.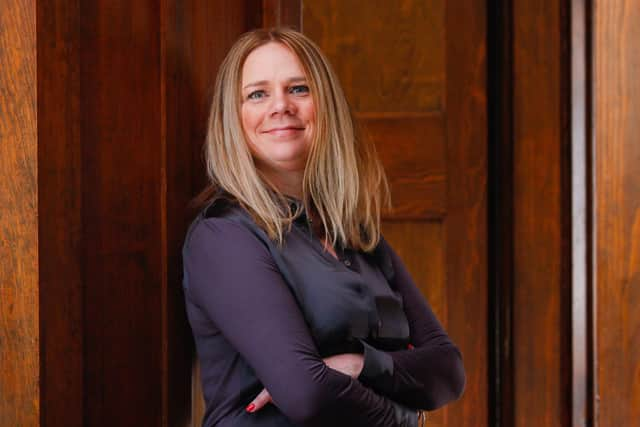 "Beeping noises in shops transported me back to the sound of heart monitors and the smell of toast triggered memories as it was the first thing I'd get to eat after surgery."
Having grown up in Wishaw, Liza moved to Larbert where her grandparents were from when she was 12. She still lives in the area with husband Craig and 16-year-old son Dylan.
Liza trained as a counselling psychologist, partly to make sense of her own experiences but she has spent the last 20 years trying to build on that work.
She has also been a health advocate for more than ten years, voluntarily sitting on the management board of The Somerville Heart Foundation in UK, successfully campaigning for Scottish CHD healthcare standards and improved psychological support.
Now, along with co-author Tracy Livechhi, she has written the book 'Healing Hearts and Minds' to help others through the trauma of living with congenital heart disease.
Liza said: "I've written the book with Tracy who is a Clinical Social Worker in America. We've never met in person but she came across the images from a photograph exhibition we did with CHD survivors a number of years ago and she wanted to use them in a presentation. We got talking and with both us being survivors and mental health practitioners we decided to write this book.
"Despite being the most common birth defect affecting one in 125 live births, there is no psychosocial support – this is the first book. There's nothing out there to support people and help them understand the emotional impact. We wrote the book we'd both been looking for.
"We wanted the book to be evidence based and we wanted it to be really accessible and easy to read with every day language. It's the first book to focus on the emotional and practical challenges of living with a life long heart condition."
The pair have created a 'how to' guide for adults living with congenital heart disease. Advances in medical science mean the number of people living with congenital heart conditions into adulthood has risen from just 20 per cent in the 1940s to more than 90 per cent. However, there is still little awareness and support out there for them.
The book aims to give others access to the resources and support Liza and Tracy have been looking for their entire adult lives with evidence-based coping and self-care skills for adults living with CHD.
Liza added: "There's a chapter for healthcare professionals and loved ones too. We were really lucky to get a deal with Oxford University Press to publish the book.
"I'm a wee bit nervous now that it's published as it's been our baby. We've been working on it for a good few years. It's got a lot of personal stuff in it as we're telling our own stories, but we have had such an overwhelmingly positive response so far. We've had so much support, not just from people with lived experiences, but also from health professionals."