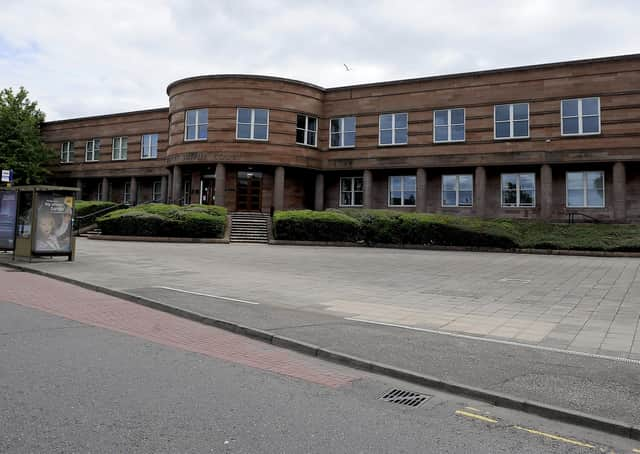 His "obsessive jealousy boiled over" as his victim struggled to free herself from their five-and-a-half year relationship, Falkirk Sheriff Court was told. Photo by Michael Gillen.
Sam Ferguson (28) threatened to petrol bomb his ex's bedroom and "put bullets" in her and anyone she dated, kept watch on her house, and held a knife to her throat.
His "obsessive jealousy boiled over" as his victim (also 28), struggled to free herself from their five-and-a-half year relationship, Falkirk Sheriff Court was told.
Ferguson threatened several men she knew, issuing death threats to a man she contacted on a dating site, and threatened a work colleague whom she had done no more than add as a friend on Facebook.
Prosecutor Michael Maguire said the pair lived "only a few streets" from each other in Bo'ness and Ferguson had threatened to "put her door in and finish her."
He also threatened to stab her brother, and said: "Don't call the cops, it'll make it worse for you. You can't hide forever sweetie, I'll get you."
Mr Maguire said around February 20, 2019, Ferguson began asking for money from the mother-of-one, and when she refused he held a large kitchen knife to her throat in her living room.
He refused to leave and slept in her bed, while she slept on her sofa. He messaged her after midnight saying, "sorry about the knife, I don't want you to be scared of me. I want to get proper help. I do actually love you and you know I need you". When she blanked him, he immediately messaged, "Ignore me one more time I dare you".
He then accused her of seeing another man, and messaged, I'll catch you both at it. I'll kill him, I'll take both your heids aff."
Mr Maguire said: "She ended their relationship as a result of this incident."
He then sent other messages threatening her with "explicit violence", adding, "If I can't have you, no-one else can safely".
Mr Maguire said: "He threw stones at her bedroom window when he knew she would be in bed.
"He threatened to throw a petrol bomb through her window, telling her to move her baby daughter's cot out of the room in case she was harmed."
Ferguson sent her "a barrage" of messages, including "I'll do 20 years in jail – you're dead."
He WhatsApped her: "If it's another man, I'll kill you." "You'd better marry a tank, and even at that I'll destroy it." "It might take 10 years, but I promise you, your pain's coming." You'd better move country, "I'm going to murder you." "You'll both be found with two bullets in yous." "Your karma's round the corner, bitch."
He even phoned her employers, and tried to get her sacked.
She reported the issue to police in August 2019, but he continued to pester her.
Appearing by video link from Low Moss Prison, Ferguson, of Drumpark Avenue, Bo'ness, pleaded guilty to assaulting, threatening, and stalking his ex-partner, all between November 2018 and December 2019.
Gordon Addison, defending, said Ferguson was "a dark, sullen, withdrawn individual" whose "obsessive jealousy" towards his ex-partner had boiled over.
He told Sheriff Christopher Shead: "One of the interests they both shared was Grand Theft Auto – which Your Lordship may understand is a popular game amongst the young – in which they go around shooting things and crashing cars and using language appropriate only in the ganglands of New York. A lot of the language used by Mr Feguson during these exchanges used the kind of language used there, and which both she and he knew was not directly a threat that was ever meant to be carried out."
Sheriff Shead jailed Ferguson for 22 and a half months, imposed a nine-month supervised release order, and a non-harassment order forbidding him from contacting his victim for five years.
The sheriff said: "A custodial sentence is the only appropriate disposal."