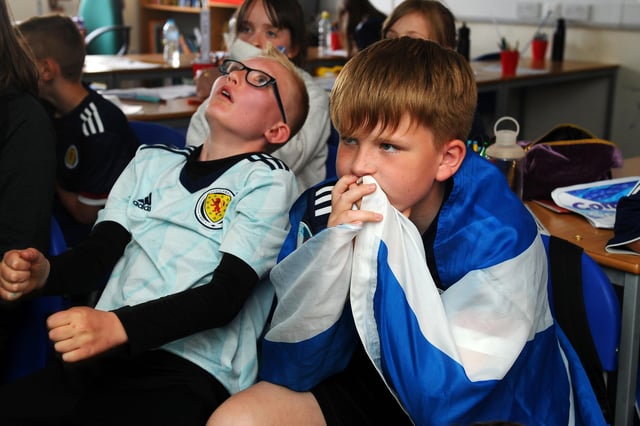 P6B pupils at Denny Primary got to watch the opening gamer today ... but it didn't end well as the Scots went down to defeat. (Pic: Michael Gillen)
In Pictures: How Denny's young pupils discovered the pain of being Scotland fans
School lessons were put on hold today as pupils across Falkirk district got to see Scotland's return to the Euro 2020 finals – and maybe the maths books might have been more fun!
Monday, 14th June 2021, 5:28 pm
After a huge build up, it was something of a let down, and an introduction to these youngsters of the agony that comes as part of following our national team.
These P6B pupils at Denny Primary donned their national strips, wrapped themselves in flags and painted their faces with saltires as they cheered on the team – and they got right behind them from the kick-off..Alas, the Scots lost their opening game 2-0 to the Czech Republic, even conceding a goal lobbed from the halfway line.
England beckon at Wembley when we will hope and dream and again.
Let's hope for a better outcome!