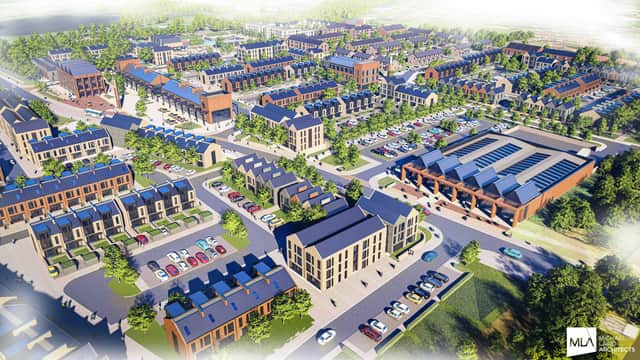 Stock photo of part of the proposals for the Winchburgh Masterplan.
The core road will run from the new M9 junction which will be located to the north of Wincburgh and will help to alleviate traffic congestion across the local road network and provide separate cycle and pedestrian paths.
Pierre Puyrigaud, Winchburgh Developments Ltd said: "This is another key section of infrastructure that will link the expanding Winchburgh community to the M9, and provide residents and local businesses with a step-change in transport connectivity."
In order to facilitate the construction of the central section of the core road, Beatlie Road will be closed from May 31 for six months. The contract for the project has been awarded to I&H Brown.
This will see a further £3.7 million invested in upgrading the transport infrastructure in Winchburgh as the masterplan continues to develop at pace.
Pierre added: "We're delighted to be working with I&H Brown on this next contract as a continuation of other major projects that are coming to fruition on the west side of the masterplan."
Duncan Brown, I&H Brown said: "We are excited to provide our continued support to Winchburgh Developments Ltd as they realise the next phase of their masterplan at Winchburgh.
"The core road is a hugely significant piece of infrastructure to support the expansion of Winchburgh and improve transport links in the area. It will provide real benefits to the community when completed."