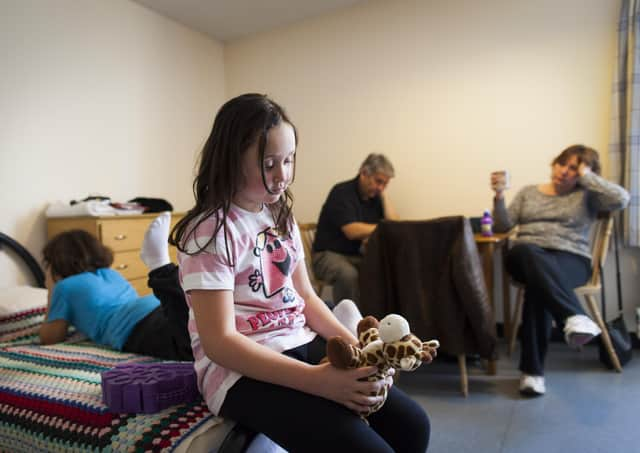 Short-term fix...as of March 31, there were 11,665 households in temporary accommodation, including 7280 children
The damning view came as the latest homelessness figures were revealed.
In 2019/20, local authorities received 36,855 homelessness applications, with 31,333 (84 per cent) found to be homeless or at risk of it.
These households contained 51,365 people – 15,711 of them children (31 per cent).
As of March 31, there were also 11,665 households in temporary accommodation, including 7280 children – an increase of 485 from the previous year.
Glasgow had the highest number of homeless households, at 5262 – an increase of 579 (12 per cent) from 2018/19.
Edinburgh had the next highest with 3355, an increase of five per cent.
There were increases in 18 local authorities in total, with the sharpest rises in South Lanarkshire (180) and Falkirk (152).
Gordon MacRae, Shelter Scotland assistant director for communications and advocacy, fears the picture is far worse as the figures don't capture the impact of the coronavirus pandemic.
He said: "These figures show that Scotland's homelessness system was failing people even before the pandemic hit.
"We had rising homelessness and record numbers of people in temporary accommodation before lockdown.
"Local authorities were already struggling to cope with the level of housing need and since then the situation has gotten a lot worse.
"The Scottish Government took swift action in the early days of the pandemic to get rough sleepers off the streets, protect people from eviction and limit the amount of time anyone could spend in temporary accommodation.
"They pledged not to go backwards on homelessness as we emerged from the crisis.
"Now is the time for Ministers to uphold their promises to homeless people.
"Government and local authorities must significantly increase the supply of suitable accommodation.
"Otherwise a short-term success could become a long-term crisis, with more people trapped in unsuitable temporary accommodation or forced back on to the streets."
Housing Minister Kevin Stewart said the govenrnment was committed to ending homelessness and rough sleeping.
He added: "The figures do not reflect the progress made to dramatically reduce the numbers of people sleeping rough during the Covid-19 pandemic.
"Our priority is to prevent anyone from ending up back on the streets or in unsuitable temporary accommodation."