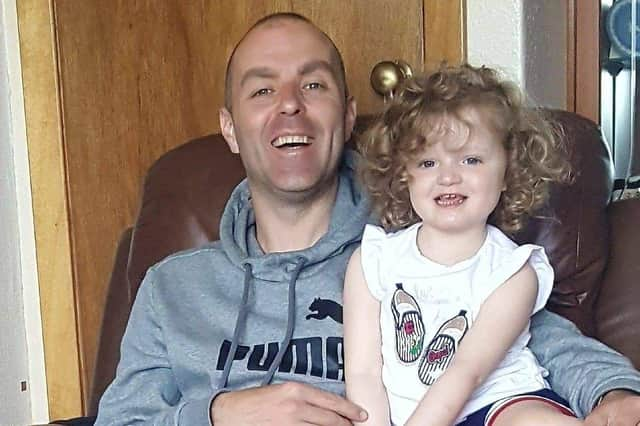 Andy Aitken, with his three year old daughter Harper who tragically passed away last year from Sepsis.
Joiner Andy Aitken (42) and his partner Lori Mullen (35) tragically lost their three-year old daughter Harper to sepsis in March last year, after she was initially sent home with a 'stomach bug'.
"It was a tough time. The next day she was rushed to hospital. I had to watch her die," recalled Andy.
"There was no sign of sepsis at all the day before she felt sick. She was playing away.
"The next day she was sick and developed a rash.
"I would like to make others aware of sepsis and the dangers of how quick it can take hold, so no other families have to go through this."
Since then, Andy has channelled all of his energy into the club – by delivering training sessions on Zoom during lockdown and helping get ready for the recent return to training.
He said: "The club has been fantastic. It's hard to describe.
"After Harper died it was like the 'four wall syndrome'. Not being at work and not coaching the team.
"I just thought 'I have to get out and do something'.
"Everyone at the club helped me, checking up on me. I have to give particular thanks to David Blackwood, Mike Kennedy, Mark MacDonald and J-O Snedden.
"I will never feel properly human again but club chairman Peter Hay has really helped me. He ordered pink armbands for all the club's teams with Harper's name embroidered on them, and all the teams had a minute's silence.
"Also my son Cayden, who played for the 2007 team, has been a solid rock for me. I don't think the laddies in my team know what they have done for me. They and the club have saved me.
"The coaching has kept my mind of what happened and kept me going."
Harper's name is embroidered on the back of the 2007 boys' match kits. The club also arranged a charity football match in January, raising £750 for the Sepsis Trust.
Bo'ness United Community Football Club communications manager Sarah Crawford-Wilkinson said: "In many ways, I think football has been Andy's saviour. There's a real camaraderie here, not only between the coaches but within the 2007 squad too."