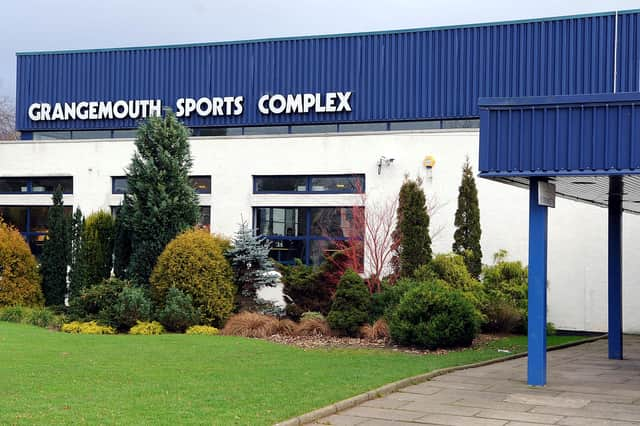 Grangemouth Sports Complex.
The popular centre has been closed since March, but Falkirk Community Trust hopes to be able to reopen the facility soon.
Its website suggests the reopening date for the venue will be announced on Friday, September 18.
A statement from the trust, which operates the region's leisure and fitness centres, said: "We understand that our customers are keen to get back to using Grangemouth Sports Complex as soon as possible, after a prolonged period of absence due to Covid-19.
"We are working extremely hard with Falkirk Council to make this happen as soon as we safely can, which includes ensuring the necessary building checks and any remedial actions are undertaken before reopening.
"After such a long period of facility closures, and taking into account the current global pandemic and government guidelines in place, we have had to think creatively in all that we do, in order for the local community to return to health and fitness pursuits in a safe manner.
"The safety of our customers and staff is, of course, paramount."
Due to the building's layout, significant changes have had to be made to allow for social distancing.
The trust said it is almost impossible to operate the downstairs gym area under the current government guidance, so steps are being taken to relocate the gym within the building.
The statement continued: "We are therefore pleased to announce that we will be relocating the gym to Sports Hall One, a much larger and spacious area within Grangemouth Sports Complex, which will allow for a socially distanced workout, alleviating any customer concerns.
"This area will be fitted out with existing equipment from the gym.
"It will also be enhanced in terms of its general layout to ensure customers can comfortably move between items of kit in a safe manner.
"Hand sanitising stations will also be provided.
"The main benefit of relocating the gym to the hall is to offer use of the gym facilities to as many customers as possible as a result of distancing guidelines now in place.
"We hope that such a relocation will provide customers with a greater sense of safety in being able to visit the Grangemouth Sports Complex gym."
Existing sports hall customers are being asked to relocate to Sports Hall Two, or to change their booking time.
If this is not possible, the trust will try to accommodate their booking in an alternative venue.
The trust has also been forced to make changes to its plans for the reopening of soft play facilities and contact sports for adults and young people (12+) in indoor sports courts at the Mariner Centre.
Following First Minister Nicola Sturgeon's announcement last Thursday, the reopening of these areas at the Camelon centre has been pushed back to October 5, subject to Scottish Government guidelines.
The swimming pool and health and fitness facilities at the Mariner Centre opened on Monday after months of being closed.
Stenhousemuir Gym and the indoor area at Grangemouth Stadium also reopened to the public that day.