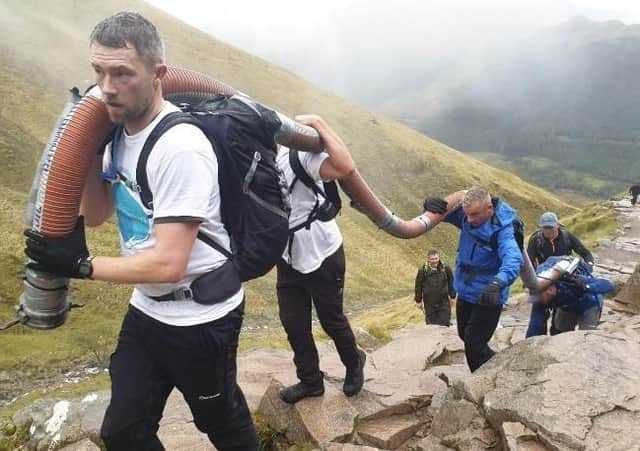 The eccentric sponsored climb was in reality a gruelling slog that taxed the climbers to the limit - but they thought it worth the effort to raise vital funds for Strathcarron Hospice.
Now the final tally can be revealed, and it is just a few pounds shy of SIX times the original £1,000 target.
Earlier this week the men involved were feeling quietly pleased with the result of a stunt which yielded a whopping £5,893 for the hospice - money which we're assured will be put to good use.
Organiser Stephen Gillon, on behalf of the climbers, said coverage in the Falkirk Herald helped the final outcome, and he wants to send a special "thankyou" from the whole team to everyone who backed their effort - however much they were able to contribute.
Besides raising cash they also wanted to help to raise the profile of Strathcarron, using their venture as a way of flagging up both the work carried out by the hospice and the challenges which face its operation in the medium to long term.
The volunteers who took part in the fun but strenuous Ben Nevis venture were - Stephen Gillon, Brian Mckenna, Bryan Mckenna, John Carroll, Allan Mcfeat, Craig Learmouth, Dan Nickson, Jimmy Kolander, Allan Smith, George Clouston,Tam Mclardie and Tony Keenan.