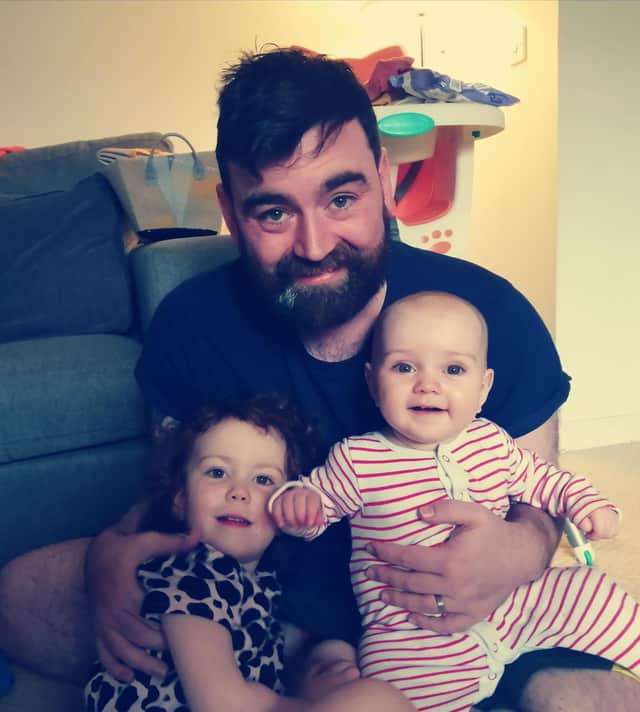 John McCallum from Linlithgow, but now lives in Haddington.
John McCallum went to hospital last year after he thought a pain in his gut may be a burst appendix but 14 hours later he was on an operating table undergoing surgery to remove a tumour from his bowel. Devastatingly, the tumour was found to be bowel cancer which had spread to his liver and now, after rounds of chemotherapy, NHS surgeons and oncologists have advised that because of the distribution of the cancer, surgery is not an option.
"I'm a young athletic guy with no history of cancer in my family, no genetic inclinations, and I had no symptoms," the 35-year-old bank worker said.
"I had a sore gut last May and when I phoned up NHS they said because I had a fever it may have been a sign of Covid.
"The test came back negative and three weeks later the pain came back, I thought maybe I had a burst appendix.
"I went to hospital and within 14 hours I was on an operating table, six inches of my bowel was removed but the tumour had spread to my liver. It was shocking and felt completely out of the blue, I wasn't unwell and in May I was running 5k a day keeping myself busy and entertained in the first lockdown."
After his surgery, John underwent two rounds of chemotherapy and, while the first was successful, the second round stopped working and the cancer spread again. He is now set to undergo second line chemotherapy in the hopes that it will work.
John and his wife Lorna have found a surgeon in Germany willing to perform potentially life saving experimental liver surgery.
John has to find his own donor, then doctors will perform three operations, the first taking the right hand side of the donor's liver to transplant into John.
More than £30,000 has already been raised towards the £220,000 target to cover the three surgeries.
"The response has been overwhelming and people have been incredible," John said.
"There's people I don't know or people who I haven't spoken to in years donating and I am extremely thankful."