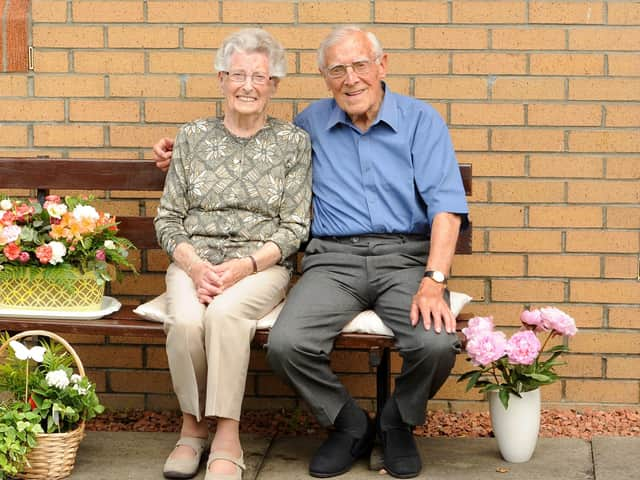 Allan and Isa Masson celebrated their 75th wedding anniversary on June 18, 2020. Pic: Fife Photo Agency
Isa and Allan Masson marked their 75th wedding anniversary last Thursday – albeit their celebrations were not quite as planned due to the 
ongoing Covid-19 pandemic.
The couple were married on June 18, 1945 and have lived locally all their married life.
They met in 1941 when they worked together during World War Two.
Allan and Isa Mason on their wedding day in June 1945.
Mrs Masson is a Fifer, while Mr Masson is originally from Banchory in Aberdeenshire.
They had previously 
intended to enjoy a special celebration with family and friends, however current 
circumstances limited how they could mark the occasion at their home in Craigearn Place.
But despite not being able to have a formal celebration the couple, who are both 96, still marked the 
remarkable feat and didn't just let the day pass by.
After all it's not every day that you can say you've been married for three quarters of a century and are celebrating your second diamond 
wedding anniversary.
They received many well wishes, cards and gifts from friends and family.
The 75th anniversary was the original diamond wedding - which is now also the name given to the 60th after Queen Victoria celebrated her diamond jubilee on her 60th anniversary of accession to the throne.
Mr and Mrs Masson have a son Tom (71), two 
grandchildren and six great grandchildren, who live up north.