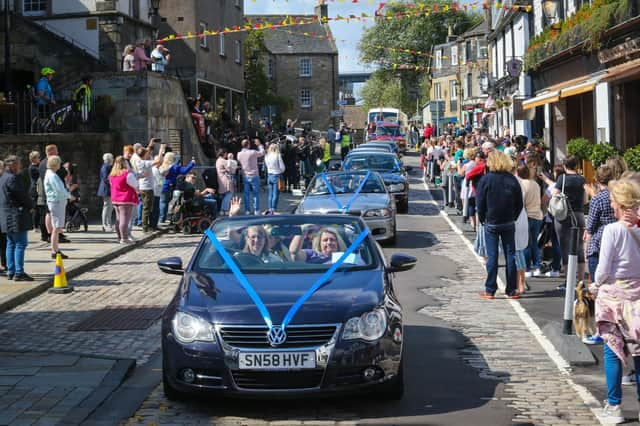 The annual Tour of the Burgh processed along the High Street for the 2021 ceremony and many people lined the streets to watch. All photos by Alistair Pryde.
Ferry Fair 2021 Queen Grace Higgins was crowned last Saturday in a private ceremony at Dalmeny Estate before taking a 'Tour of the Burgh', a week after the 2020 Queen was crowned. While, the Burryman's Day celebration took place last Friday.
Andrew Taylor was hidden under hundreds of seedheads from burdock plants that grow locally for the Burryman's Day celebration through South Queensferry.
Residents and curious onlookers guided him along the streets throughout the day.
The 2021 Court assembled on the banks of the River Forth near Barnbougle Castle as Covid-19 restrictions were not lifted in time to organise the traditional High Street ceremony.
The Gracious Lady, Mrs Diane Job, crowns the 2021 Queen, Grace Higgins. All photos by Alistair Pryde.
Andrew Taylor, who has been the Burryman since 2012, has to be cut out of his suit at the end of the day and the relief is obvious!
The Herald, Charlie Doga, reads the proclamation.
Queen Grace and Herald, Charlie Doga hung a wreath at the town's war memorial, watched by Gracious Lady, Mrs Diane Job and Ferry Fair Chair, Mrs Tracy Guyan.
Jane Harkin, Vice Chair of the Ferry Fair Festival, celebrated her retirement from the committee after an involvement spanning 25 years!
The Burryman is accompanied on his tour each year by trusted attendants, Duncan Thompson (L) and Andrew Findlater (R).
The Burryman arrives at his first stop of the day in Villa Road, South Queensferry.
The Burryman leaves The Staghead Hotel for his 2021 Tour of the Town.
The flag at the town's registry office was lowered to the tune of Highland Cathedral, played by Queensferry Pipes & Drums.
Queensferry Pipes and Drums, led by Town Crier, Lindsay Munro, led a very small procession to the flag lowering ceremony.