Family of Polmont man, who died playing football aged 25, support charity campaign for more defibrillators
The family of a Polmont man, who died while playing football, are backing calls for more defibrillators to be installed across Scotland.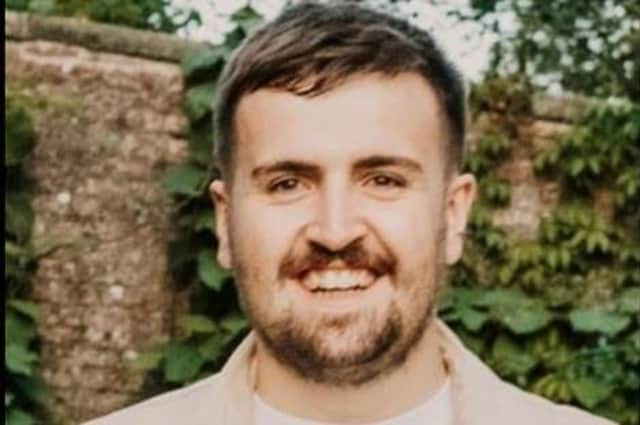 Euan Anderson, 25, was unaware he had a rare genetic heart condition and died while playing a five-a-side game in Grangemouth last year. Despite a defibrillator being on the scene quickly, sadly he could not be saved.
His family are backing calls from the British Heart Foundation (BHF) for more of the life-saving pieces of equipment to be installed in communities and they are supporting the charity's campaign inviting communities to apply for a free defibrillator.
Euan's sister, Emily Thomson, said: "We were already aware that there was a shortage of defibrillators in the Grangemouth area and it's vital that communities have equal access to these life saving devices."
Quantity surveyor Euan was a keen footballer, but he was unaware he had ARVC – arrhythmic right ventricular cardiomyopathy. He collapsed during a five-a-side football game with friends at Galaxy Sports Little Kerse, near Grangemouth, in July 2022 and despite valiant efforts of those present he died at the scene.
Emily added: "In Euan's case, there was a defibrillator on the scene very quickly, but he couldn't be saved. But if access to one might help save someone else in the future, then I'd urge community groups to apply."
With support from Royal Mail, the British Heart Foundation has 220 defibrillator packages available to communities as part of its Community Defibrillator Fund. The heart charity has said areas with greatest need will be prioritised – those with high deprivation and limited access to defibrillators.
The charity wants everyone to have the best chance of survival from a cardiac arrest, no matter where they live.
In Scotland there are over 7200 defibrillators registered on The Circuit – the national defibrillator network – but they are not evenly distributed.
David McColgan, head of BHF Scotland, said: "Every defibrillator has the power to save a life – that's why I'm thrilled that we're able to fully fund 220 of these life saving devices for communities.
"Every second counts when someone has a cardiac arrest. Performing early CPR and having access to a defibrillator gives someone the best chance of survival. There simply aren't enough defibrillators where they're needed most, as research has show that many communities are too far away from their nearest defibrillator. These devices make where you live safer, as cardiac arrests can happen to anyone at any time."
Those areas to receive one of these defibrillators will be provided with a defibrillator and cabinet and installation costs will be covered where required. Communities awarded one can order future replacement parts free of charge when they expire or are used in a rescue. The charity will also ensure that each defibrillator is registered on The Circuit so ambulance services can direct bystanders to the defibrillator in the event of a cardiac arrest.
The BHF are particularly eager to receive applications from community groups in the areas identified as having defibrillator black spots, based on available data on defibrillator locations from The Circuit: the national defibrillator network. Grangemouth is among these blackspots with a round trip walking time to the nearest defibrillator from centre postcode of eight minutes.