Family making historic Linlithgow House a home
A family from Aberdeen have now got the keys to Linlithgow's historic Annet House, and are busy converting it into their dream home.
Monday, 6th July 2020, 6:51 am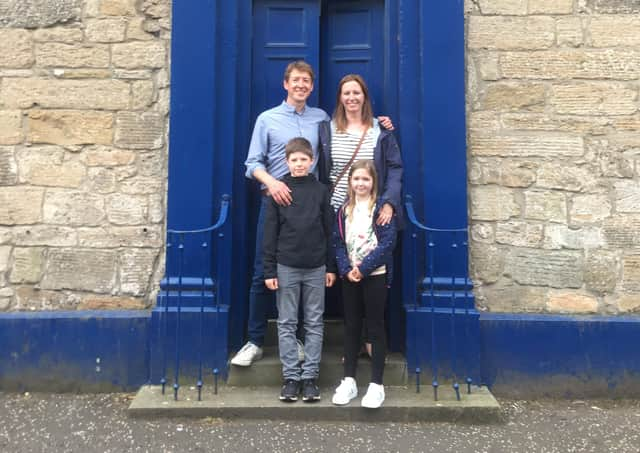 Moray and Jane Melhuish with their children Struan and Orla at their new home, Annet House.
West Lothian Council Executive approved a proposal to sell the former Annet House Museum in Linlithgow for £351,007 last December. Now, Jane and Moray Melhuish, along with their children Struan and Orla, and Barney the dog, have received the keys to the building, built in 1787.
Moray can't wait to get started on the renovation.
He said: "We are looking forward to starting the restoration and becoming part of the local community.
"We are incredibly excited. It's really great for the family.
"Unfortunately the house needs quite a bit of work, so we have not moved in just yet.
"It's fitted out as a museum so there is a fair amount of work to do to turn it into a living family house.
"The first thing we have to do is make it water tight. The next step is to get hold of local contractors to fix any damp problems in the house.
"We want to move in as quickly as possible.
"This is the third house we have done. It's the biggest and oldest one we have ever taken on. But we are certainly not scared of a project."
Moray, a sales rep for a tech company, revealed why the family bought Annet House.
He said: "I saw it as I was in Linlithgow for work and thought right away when I saw it that it was a great building.
"We are excited about moving into the building. Now we are looking forward to turning it into a family home, as that's what it was built for.
"We have got a rented property in Linlithgow where we will stay until Annet House is finished.
"But at the moment it's out of our hands while we wait on Annet House to get listed building consent.
"We are just super excited to meet our neighbours and make our life here in the town."
The museum, re-branded as Linlithgow Museum, relocated to Linlithgow Partnership Centre in 2018. It continues to be managed by Linlithgow Heritage Trust.