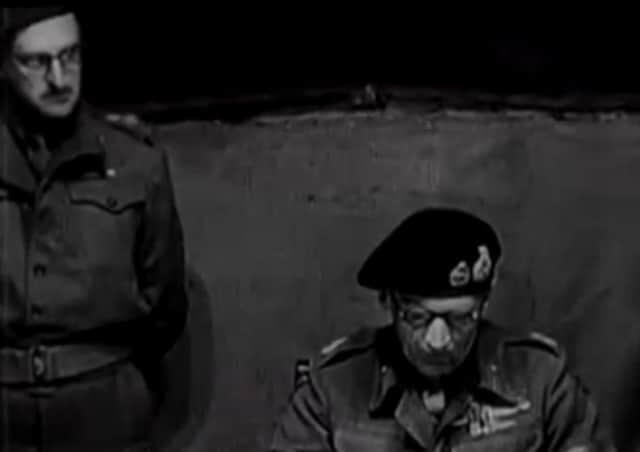 The story of Malcolm Montgomery may not be a well known one, but he was a vital help to the powers that be when it came time to finalise the surrender of Germany in World War Two.
After Adolf Hitler committed suicide on April 30, 1945, his successor Grand Admiral Karl Dönitz negotiated an end to the war with the Allies.
A German delegation arrived at the headquarters of British Field Marshal Bernard Montgomery at Lüneburg Heath, east of Hamburg, on May 4, 1945 and there Montgomery accepted the unconditional surrender of German forces in the Netherlands, northwest Germany and Denmark.
Then on May 7, at his headquarters in Reims, France, the supreme Allied commander General Eisenhower accepted the unconditional surrender of all German forces.
On that day on May 4, Falkirk's Malcolm Montgomery, serving with the 52nd Lowland Division of the British Army, acted as an interpreter for Field Marshal Montgomery during the surrender negotiations.
Malcolm, who was born in 1919, can clearly be seen in the Pathe Film footage at the time, standing beside Field Marshall Montgomery – known affectionately by his troops as Monty – as he signed the treaty.
Malcolm's niece Linda Dalziel (69) has been researching the part her uncle played in the Second World War.
She said: "They say the 52nd Lowland Division was an elite unit and my uncle spoke German so he was able to translate what was being said during the signing. You can see him standing beside Field Marshall Montgomery in the Pathe News film."
Malcolm, whose mother Mary owned a shoe shop in Falkirk, had a younger brother called Richard who served with the RAF. Sadly he was killed at the age of 22 in India in 1946. Malcolm, who lived in Russell Street for a time, died in Glasgow in 1988.