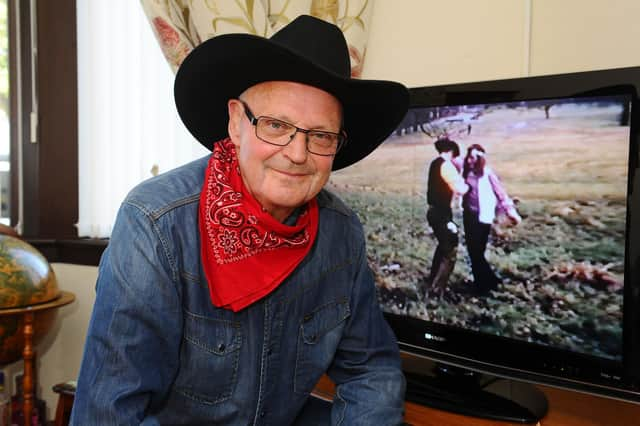 Original BA Cowboy Ian Gardiner (73) admitted he would love to be included in the new feature film
Nick Young, a Dundee-born film producer back in Scotland after spending the last 20 years in America, was working on another film in Glasgow when the BA Cowboys – now better known as the Falkirk Cowboys following a well-received BBC Scotland documentary – came riding over the prairie into his life.
He said: "I was in the Glasgow area working on a new film Man and Witch and got talking to the agent of the casting director. He told me about a film that some of his other clients were looking to make and they were looking for a producer to help them develop it."
Those clients, including director Ian Bustard, were the men behind the Falkirk Cowboys documentary which told the story of the BA Cowboys – around 20 film lovers who worked at the British Aluminium factory in David's Loan, Langlees in the 1970s.
These likely lads would spend their spare time and cash making Western action epics – including Wyoming Outlaws, Badlands, Apache Ambush, Border Badmen and The Lonesome Drifter – on a shoestring budget in locations like Falkirk's Callendar Park.
On one occasion they almost ended up in the caboose for real, when police turned up after someone reported a group of people running around with guns in the historic park.
Their films were shown in a makeshift cinema in the Falkirk BA factory and were intended to raise money to buy wheelchairs for local children.
It is this heartwarming, carefree – almost Local Hero-esque – spirit Nick and the team are looking to recreate in their forthcoming feature film.
The BA Cowboys legend will ride on in a new feature film
"It's going to be a real feelgood film," said Nick. "When you watch those original BA Cowboy movies you could see it was a real labour of love for all of them. The thing is the original cowboys wanted to be movie stars and now they are going to become just that – this film will be their chance to be in a professional film and be what they wanted to be.
"What we originally wanted to do was a historical period piece – a film based around the real lives of the original BA Cowboys set in the 1970s. However, we decided to make it more contemporary and modern, but keep it true to the original films."
Instead of the original BA Cowboys, the new film will centre on their descendants, who are inspired by the amazingly fun films of the original cowboy posse to make movies of their own.
"We still want to have as many of the original BA Cowboys feature in the film as possible," said Nick. "We also want to set it in all the locations where the original films were shot.
Film producer Nick Young was hooked the moment he heard the story of the BA Cowboys
"We would look to talk to Falkirk Council to see if we can film at Callendar House and other locations in the town."
Nick and the team behind the Falkirk Cowboys documentary are now working with Screen Scotland's Short Circuit programme to develop a script which captures all their ideas.
"We have the story and the characters in place," said Nick. "We just need a finished script to take this into production and that could take a couple of months, but we should be able to get started in summer going into production and may actually start shooting the film.
"The main goal is to keep it as local as possible – it all started here in this area and we want it to continue here. There will also be the opportunity for local people to become involved in the film."
The Falkirk Cowboys documentary, which was recently screened again on BBC Scotland, featured three of the original BA Cowboys – Denis McCourtney, Ian Gardiner and Alex Penman – telling the story of how Robert "Rab" Harvey's obsession with Western legend John Wayne led them to become local film stars.
Sadly Alex has since died, but Ian (73), from Stenhousemuir, and a few more of the BA Cowboys are still riding the range.
Ian admitted he had not heard anything about the plans to make the new feature film, but he did say he and the surviving BA Cowboy gang would be up for taking part – although with most of them now in their mid to late 70s and early 80s, they may struggle getting on horses this time around.
"Well we wouldn't tell them to get lost if they wanted us in it," he laughed. "We had a great time doing it back then and never thought it would come to anything. We just did it for the fun and to show to the old folks and the children to entertain them.
"I hope they hurry up and make it because we're all getting on a bit now, but we're still just wee bairns and young cowboys at heart."
Ian said he thought someone was pulling his leg when the Falkirk Cowboys team told him they were doing a documentary about the BA employees and their DIY epics.
"I thought it was a hoax, but it was great and it brought back so many good memories."
The documentary centred on the original BA Cowboy films being shown in a real cinema – Bo'ness Hippodrome – for the first time and the BA Cowboys themselves walking up the red carpet to attend the special screening.
And now the remaining BA boys will be back in the saddle – perhaps only metaphorically – in this new feature film, doing what they love most in front of the camera again almost half a century later with a chance to reach a bigger audience than they ever dreamed possible.
The Falkirk Cowboys documentary is currently available to view on the BBC iPlayer.