Falkirk sports hall is a thriving community facility again after refurbishment works
Refurbishment work at Woodlands Community Sports Hall has transformed it into a thriving community facility again.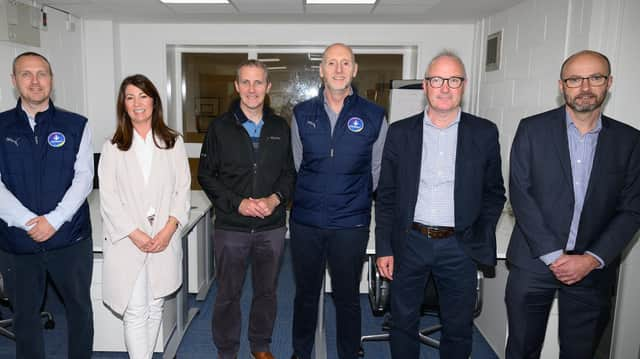 The hall was part of a successful Community Asset Transfer which has seen the Falkirk Foundation refurbish the space through funding it has secured.
The group has brought parts of the building back into use and installed a useable astroturf pitch and games hall space. The spaces are used by Comely Park Primary during school hours, with the local community and the Falkirk Foundation using it outwith school hours.
The refurbishment was funded by Avondale Environmental, part of the NPL Group, through the Scottish Landfill Communities Fund.
Mr Matheson said: "It was great to see the work that Falkirk Foundation has done to bring Woodlands Community Sports Hall back to life. This space has been renovated so it can be used in many ways, with the community at its heart. I was also pleased to hear about the great success of the programmes that they run targeting various groups and how well used the space is. The Falkirk Foundation are certainly leading the way with the work they are doing in the community to increase health and fitness, whilst also offering qualifications and employability skills for young people."
Derek Allison, chief executive of the Falkirk Foundation, said: "It was really good of Mr Matheson to take the time to visit us and see the progress of the refurbishment to the Woodlands Community Sports Hall. Since Falkirk Council transferred the asset to the Foundation and partners, the foundation have secured over £550,000 of grant funding to make the venue a well-used community hub. This latest grant funding of £140,000 has seen the internal spaces renovated to make once unusable spaces into bright, welcoming, usable ones.
"Thank you to the funders for their support and the local contractor, Ebony Joiners, who have carried out the work to such a high standard. It was great to be able to inform Mr Matheson all about the work the foundation do in our community and talk through our vision for the future and how we want to help address the local social and economic issues in our communities."