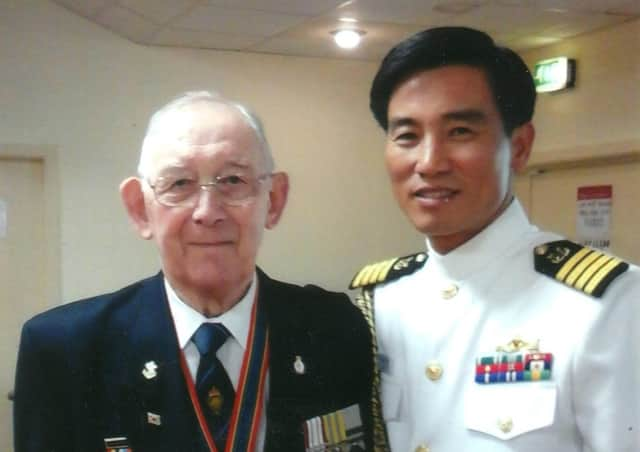 Peter MacKenzie with the South Korean Naval Defence Attache
Peter MacKenzie from Stenhousemuir is one of my oldest friends.
Not the kind you meet up with every month or even every year but the kind with whom you have an unshakeable bond formed over 60 years ago.
Peter is the best of men, one who has worked hard all his life to promote decency and justice in our often troubled society. He taught me more than he will ever know.
Korean veterans gather back in 2012
When he was 15 he joined the Royal Navy and when the Korean War broke out in June 1950, 70 years ago this month, his ship set sail for the conflict.
Britain had joined a United Nations force which went to the aid of the Korean people to prevent the Communist forces backed by the Chinese from overwhelming the whole peninsula.
For the next three years British forces, most of them national servicemen, faced the might of the enemy and the losses suffered were very great –1090 dead and many thousands wounded – before the uneasy ''armistice'' which divided the country into north and south.
Men from Falkirk district died there including two privates from the King's Own Scottish Borderers, H M Brady and Thomas Haldane from Camelon, who were killed on November 5, 195; Lance Corporal D F Allan of the Argylls from Denny and Private W Steven of the Black Watch who lost his life in November 1952. A fifth, Private A Buchan whose family came from Grangemouth, had joined the Argylls in Fraserburgh.
When it was all over, our country weary of death and destruction in the aftermath of the Second World War, seemed to forget these new sacrifices but Peter MacKenzie was one of many who worked hard within the Scottish Korean War Veterans' Association to make sure that this would never happen. Nor, indeed, did the South Korean people who for the last 70 years have maintained strong links with the old soldiers and sailors who helped to save their country.
They were heavily involved in the creation of the Scottish Korean War Memorial at Beecraigs Country Park near Linlithgow which is a re-creation of the land over which the soldiers fought, with a beautiful pagoda containing the names of the fallen.
When the original building was restored a few years ago the South Koreans sent over a highly skilled craftsman to create an authentic tiled memorial. It is a place we should all visit. And this month the South Korean Government has written to all the surviving veterans, including Peter, with the following moving message:
''Dear Korean War Veterans, By sending you this short letter from a country afar, we would like to give our kindest regards to you, our dearest friends whom we have never met but who are close to our heart. When you risked your life in a strange land filled with gunfire, the strange people you saved were our grandfathers, grandmothers, fathers and mothers.
Since then 70 years have passed and many things have changed ... you were young and great and now you are generous grandfathers or grandmothers while the Republic of Korea once left with the ashes of war is now a pretty great country.
However, what has not changed is that we all remember you and are grateful to you.''
There was more but that is enough to show the sentiments that still exist.
It is a heart-warming message and enclosed with each letter was a batch of special face masks developed in early COVID days along with good wishes for today's new campaign. For Peter and his old comrades it was a reminder that the battles of their youth were not fought in vain and are still appreciated over 5000 miles away.