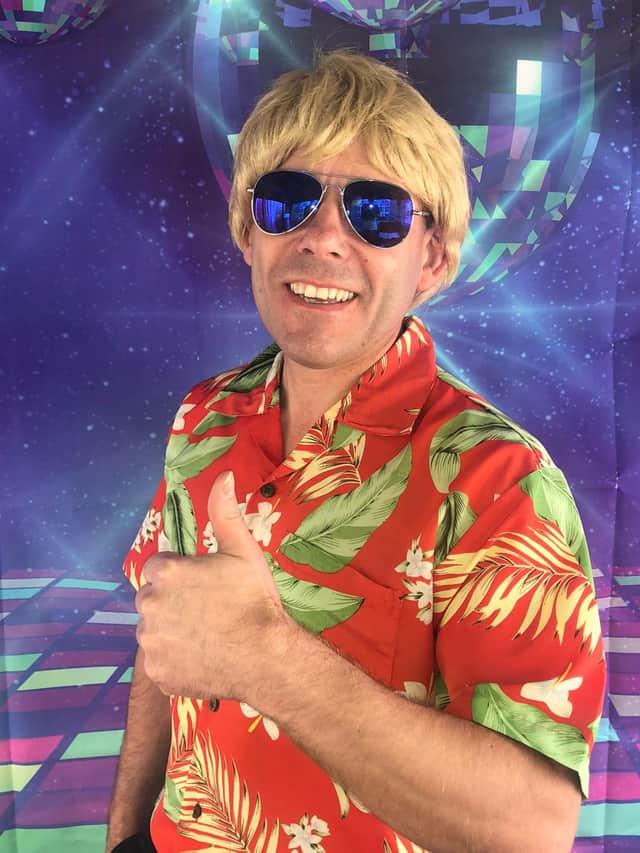 DJ Craig Pollock has been hosting Disco Dinners on Facebook each weekend during lockdown and has raised over £11,000 for Strathcarron Hospice
A local DJ who started playing a set on a Saturday night online for friends and family has helped raise over £11,000 for Strathcarron Hospice.
Craig Pollock has been blown away by people's generosity in helping raise such a huge amount for the Fankerton hospice through the online charity event over the weekend.
He said: "I can't believe what's happened at the weekend.
"At the start of lockdown, because I do the DJing part time, I thought what am I going to do on a Saturday night?
"I had been speaking to friends and they said put something on Facebook and we'll watch it.
"So I started doing an hour live on Facebook on a Saturday between 6pm and 7pm.
"My nickname is Craigie P, so friends were saying have your tea with Craigie P and that's how Disco Dinners started.
"It was just an hour to give everyone a laugh, play some requests and give a shout out.
"I'd have around 100 people watching, so because I'd been doing it for ten weeks I thought it would be good to do something for a charity.
"So on Saturday we hosted an event online for Strathcarron.
"The prizes we got from people and businesses were unbelievable. Everyone was so generous.
"The total is currently sitting at £11,800 including Gift Aid and I'm sure we'll pass £12,000 by the end of the week.
"It shows how kind people are. People have been saying well done for raising so much but it's everyone else that's made it happen, I'm just supplying the sound.
"Strathcarron is a fantastic local charity that is close to a lot of people's hearts."
Craig has watched the audience for his Disco Dinners increase as the weeks have gone on.
On Saturday more than 500 people watched the live party charity stream on the Disco Dinners Facebook group to help raise the huge amount for the hospice which provides specialist care for local people living with, and dying from, a terminal illness.
Craig received support from local singer Barbara Bryceland who played live from her home on Saturday and his brother Gary, who is also a DJ,got involved too.
Euan Lawrence, David McCallum and Fraser Russell helped out behind the scenes.
The part-time DJ had initially set a target of £1000 for his fundraising. However, thanks to people's generosity, that target has been smashed.
Craig said: "I would just like to say a great big thank you for all the donations.
"A big shout out to all of our prize givers and to everyone who has donated.
"Not in my wildest dreams did I think we could achieve this figure or anywhere close."
Craig confirmed that he'll be continuing his Disco Dinners on a Saturday evening for the foreseeable future.
"The pubs are not open so we'll be continuing for now," he added.
To donate to the Disco Dinners fundraising page click here.