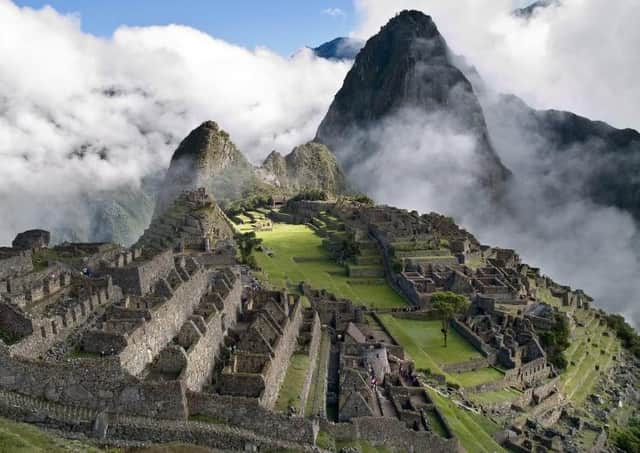 Machu Picchu.
Together with other British citizens the couple, both retired nurses, have been caught by the country's lockdown, brought in to combat the spread of Coronavirus.
They strongly feel the British Government isn't trying to do enough to get them home.
Although they are being put up in the Holiday Inn in Peruvian capital Lima - where they face indefinite isolation - that hotel has now become a transit point for people from many nations trying to leave Peru.
Stranded Falkirk couple Peter and Sheena Johnston.
They have been confined to their room, and are brought meals there, as part of the bid to ensure the virus doesn't spread throughout the hotel.
Yet only days ago they achieved their dream of visiting the incredible world-famous Inca fortress of Machu Picchu, high in the Andes, following on from a trip to Cuzco, once the capital of the Inca Empire.
Peter (61), able to communicate via email, said: "Our onward journey was to be on to Brazil and then a cruise ship back to Europe.
"The day of departure from Cuzco we heard that Peru was closing the borders, and we needed to get to Lima as soon as possible.
"We managed to get one of the last flights to Lima but unfortunately there were no flights to take us out of Peru".
They have been kept in constant touch with developments by their tour operator, Cruise.co.uk, but say the firm's efforts to secure a SAGA site have been scotched - and that the UK Government is "only concerned about commercial solutions to our situation".
The Foreign and Commonwealth Office meanwhile has told the Falkirk Herald it is working hard to help British citizens stranded in Peru.
In our story yesterday we relayed its advice to British citizens in Peru, along with contact details for the British Consulate.
Peter added: "Our hotel has been great and accommodated us without complaint, and the Peruvian people have been friendly and welcoming" - but they are now effectively in lockdown in their hotel room until a solution can be found.
Peter added: "Our family and friends are all concerned and worried.
"My mother is 87 and relies on regular visits.
"My sister and carers are covering this at the moment, but this may become more difficult if the situation worsens and I can't get home".
Cruise.co.uk agent Peter Cook today emailed the Johnstons and the other tour members to say the only news he had received this morning is from UK travel association ABTA stating it had written to UK Foreign Secretaty Dominic Raab yesterday on behalf of the whole travel industry.
This follows on from a letter to him from 17 MPs urging more action.
Mr Cook said: "So far there has been no Government response. We can only hope that the wheels are turning behind the scenes.
"Your accommodation has been extended again by Lima Tours until Monday."
The FCO said yesterday: "The UK is engaging with a number of international partners and commercial airlines to see how we can help Britons still in Peru best return to the UK.
"We are working intensively to help all those who wish to leave and actively exploring what further flight options can be made available."