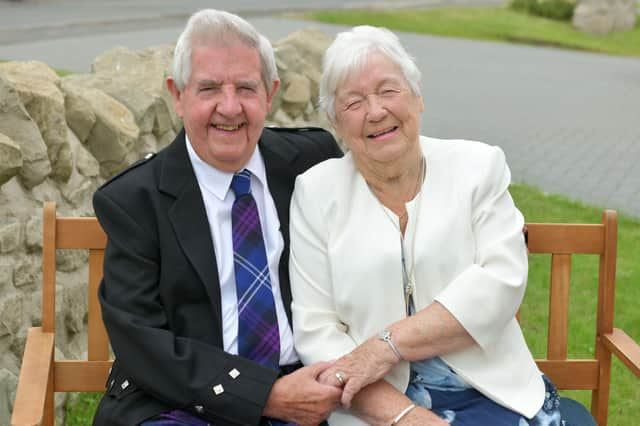 Tom and Jean Craig celebrating their Diamond Wedding anniversary on 15-06-20. Pic: Michael Gillen.
Jean and Tom Craig celebrated their diamond anniversary on Monday in the best way they could given the current circumstances.
The couple, who are both 83, marked the occasion over the course of the weekend with socially distanced visits from family and friends, as well as a professional family photoshoot on Monday afternoon.
They also received video messages from those family and friends they were not able to see due to the pandemic, which they watched before enjoying a celebratory meal delivered by Monteray Jack's.
Tom and Jean Craig on their wedding day on June 15, 1960. Pic: Falkirk Herald Studios.
Jean said: "It was absolutely wonderful. The video messages were emotional. It was an absolutely tremendous day."
The couple met when they were 17 through a mutual friend.
Falkirk Bairn Jean lived near Slammanan ath the time, while Tom was in Airdrie.
Growing up, Jean attended Bainsford Primary and then Falkirk Technical School, while her future husband was a pupil at Greengairs Primary and Airdrie Academy.
During her working life, Jean worked in a solicitor's office and Tom was a motor mechanic.
The couple were married in St James Church in Thornhill Road, Falkirk on June 15, 1960.
After they were married they lived in Falkirk initially, but over the years they have spent time living across the UK, including a spell in London and Essex, before returning to the local area.
They have since lived in several locations around the district.
The Craigs have two children, daughter Carol Wilson (59) and son Stewart (51). Both have their own businesses 
locally – Carol runs Envy Gowns, while Stewart runs Forthview Golf Range in Airth.
Jean and Tom have four grandchildren.
Asked about the secret to a happy marriage, Jean said: "You just have to be very tolerant of each other. You have got to laugh and have fun and don't be pessimistic.
"We have had our ups and downs like everyone else, but you have got to stay positive."